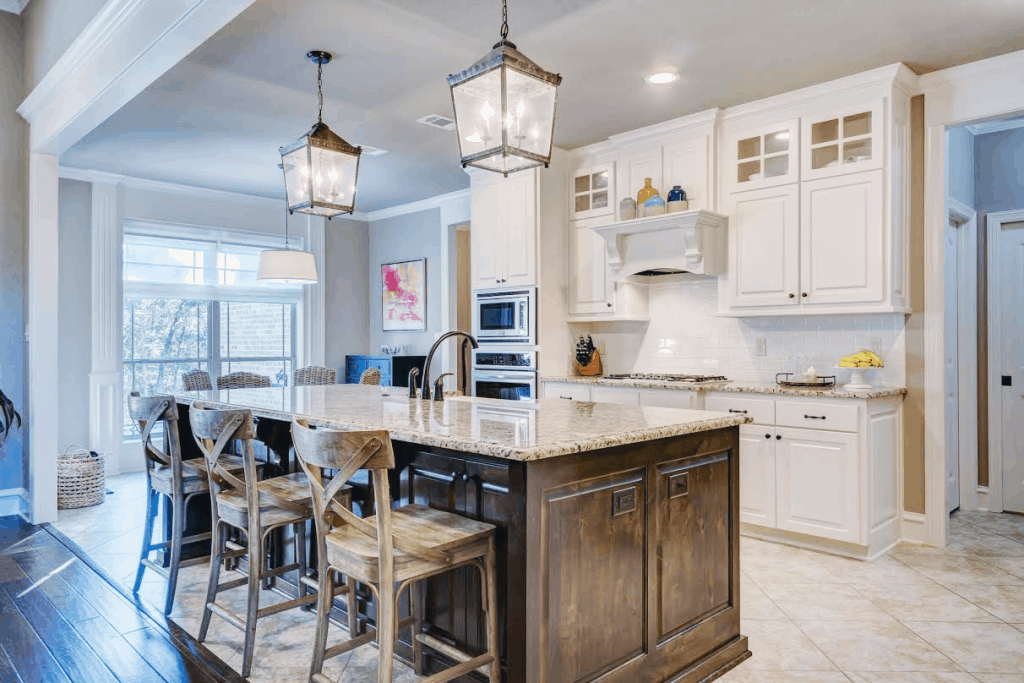 While classic décor has a timeless value, modern designs certainly have their own charms, bringing more than a few enticing looks. However, what to do if you're a fan of both the traditional and the modern? Creating the perfect balance between the two and combining the best of both worlds offers a plethora of simple yet mesmerising solutions. With these inspiring design ideas, you can give your classic décor a modern flair in just a few simple steps.
Spice up the monotony of the all-white kitchen
While a beautiful white design gives a kitchen a serene look, this is one of the distinctive features of the traditional style. However, you can spice things up a bit and bring some contemporary details to your traditional kitchen without having to plan a complete makeover. For example, you can design the perfect kitchen island by opting for a modern look of clean lines and sleek countertop. You can also repaint your kitchen cabinets in a minimalist muted tones with a matte finish while keeping their traditional design. Finally, there's nothing more modern than stainless steel that you can have by simply applying stick-on covers to your old appliances.
Give a bold, modern twist to the traditional living room
For an eclectic look in the living room, you should combine the old with the new by using different elements. If this area features a traditional design with vintage elements, adding contemporary artwork with abstract motifs is a simple yet sophisticated way to embrace the modernity.
You can also welcome the latest trend expected in the year 2018 – the ceiling as a statement. Applying enticing wallpaper to the living room ceiling will certainly create a stunning visual appeal. You can also use paint with a sleek, metallic finish which will provide the perfect backdrop to a vintage chandelier. If you're ready for a truly bold décor statement,  consider painting a living room wall in black, one of the most popular hues for 2018. Paired up with antiques, this combination will be a perfect blend of the vintage and modern.
Transform your bathroom into a modern spa
In the modern home, the bathroom is transformed into a personal oasis for relaxation and self-indulgence. As such, it's become one of the most important areas in a home, offering many opportunities for experimenting with design. A simple way to give your traditional bathroom a modern look is replacing your old fixtures with new ones. You should choose modern finishes, such as brass, nickel, chrome or rose gold.
Installing subtle lighting is another important step of giving your bathroom a modern, spa-like vibe. Choose lighting fixtures that will work as accent details, as well – a modern chandelier will be a stunning focal point in the bathroom.
However, if you want to create a true spa-like atmosphere in your bathroom, you should install one of those modern bathtubs with an elegant design and pair it with a lush area rug that will add a touch of comfort and opulence. Set against a traditional tile design, this combination of elements can create a chic contrast in your home spa.
Break the traditional pattern in the bedroom
When it comes to your traditional bedroom design, there's plenty of ways to keep its classic appeal while introducing modern elements. The ideal bedroom should feature a subtle palette of soft, neutral tones with occasional pops of vibrant hues. Against the backdrop of neutral walls, you can experiment with modern designs for other elements. For example, you can use large-scale prints and geometric patterns for details, such as throw pillows, area rugs, curtains, etc.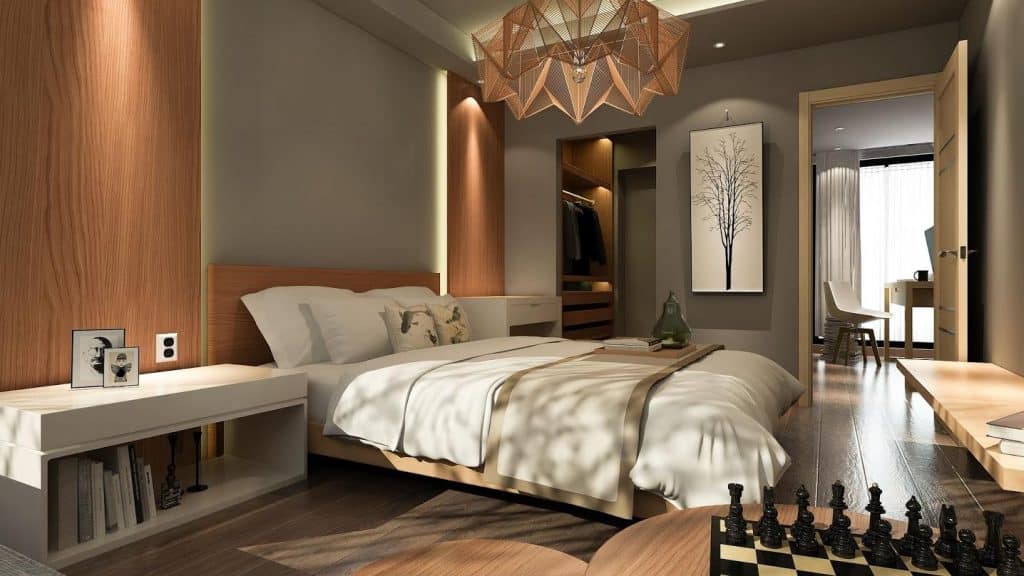 Lighting is another important element that you should use to create a relaxing ambiance. You can install dimmers to adjust the light in your bedroom depending on your needs. However, this is also a great opportunity for styling up the traditional design by introducing modern fixtures. From minimalist, industrial designs to lighting fixtures with sleek, clean lines, you have plenty of options. Lastly, you shouldn't forget to add a stylish area rug to your cosy sanctuary. You can experiment with different colours and designs and even consider layering several rugs. This layered look will add to the comfort of your bedroom while updating your classic décor.
Both classic and modern décor have their own charms. By using the best of both, you'll give your home an authentic and inspiring appeal.
---
Guest article by Chloe Taylor. Chloe is an art historian and recreational ballet dancer. Her biggest dream is to travel the whole world and take stunning photographs of beautiful places. She also enjoys learning and writing about home design, since she is crazy about aesthetics. She is a regular contributor to Smooth Decorator.