123 Remodeling was called to solve a problem for a commercial warehouse in Chicago, IL.  The warehouse re-structured, dividing areas into smaller units, suiting the needs of smaller businesses.
After dividing the warehouse, the increased of number businesses, increased the number of individuals accessing the warehouse bathrooms. The two bathrooms were not enough to suit the needs of the warehouse and it's extra tenants.
123 Remodeling's solution – build-out space for 2 additional bathrooms, tear-down existing bathrooms, then build the bathrooms and remodel as designed.
[before-after width="100%" viewer_position="center" offset="0.25″ move_on_hover="true" is_wiggle="true" wiggle_timeout="5000″ overlay="false"]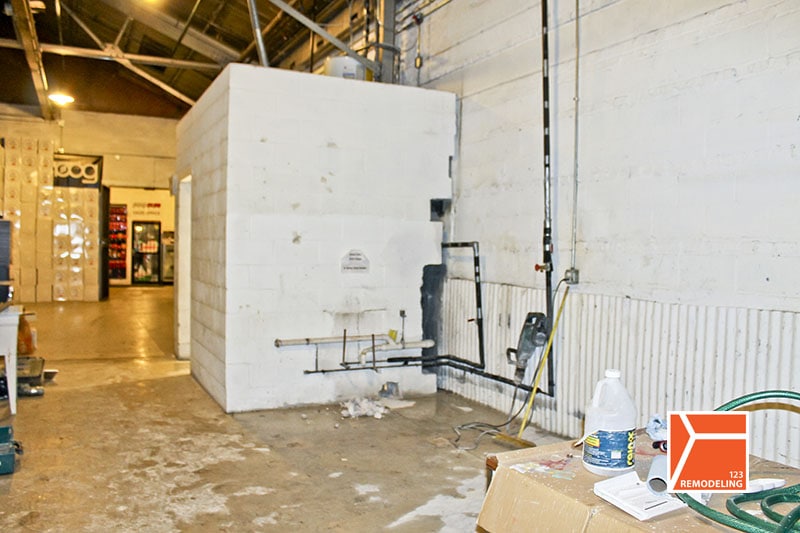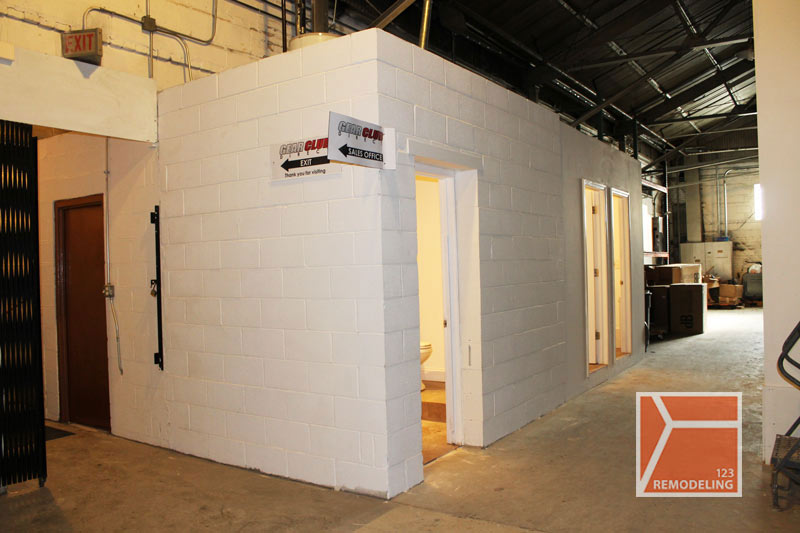 [/before-after]
Extending the walls
Here is how we created the additional space.  (see below)
Build-out plumbing, electrical and sewage lines.
Frame and dry-wall to enclose the space.
Before
Starting with the 2 original bathrooms, gut and removal of bathroom components including the flooring.  (see below)
During
Built each of the bathrooms from scratch, new lighting, tiled flooring, paint and bathroom components.  (see below)
After
Final touches included assembly of utility sink, bathroom drawers, shelves, matching towel racks and room accents.   (see below)
Before, During, After (60 seconds)
From building additional bathrooms to 
kitchen remodeling
,
bathroom remodeling
, and
basement remodeling
, to
tuck-pointing/masonry
, and
exterior remodeling
, we do it all. We do residential and commercial projects.
Get a Free Consultation
If you're interested in remodeling your home and you live in one of the areas listed above, call us today for your free consultation: (773) 685-6095.  Click the button below and schedule a request for a Free Consultation: