Reading Time:
4
minutes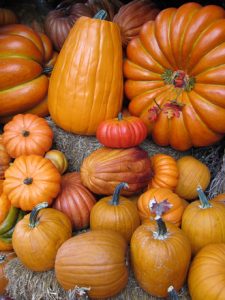 As I was walking to my office the other day, I saw that one of the houses I routinely pass had turned around its plastic jackolantern lights to be Thanksgiving pumpkins. And while it's certainly clever in a pinch, I think we can all do a little better when it comes to our holiday decor.
That is to say, we can use real pumpkins.
I get really into the capitalism side of Halloween every year, solely through the volume of both candy and pumpkins I purchase. I have a problem, and I acknowledge it. However, whereas the candy doesn't tend to last the month, I always have too many pumpkins by the time I start writing holiday cards in mid-November.
So if you're like me and find yourself with too many pumpkins and too little time to put effort into Thanksgiving decorating, I'm about to solve at least two of your problems. Here's a few small ways to make your house say "Happy Thanksgiving" instead of simply "I shouldn't be trusted around pumpkin farms."
48/48