123 Remodeling's Project Management Team Philosophy
Our Project Managers (PM) are thoroughly familiar with the office and field aspects of Remodels.
Each one of our PMs enjoys being in a hub position highly visible to all office and field employees.
Our PMs understand that, when it comes to remodeling, the journey should be as excellent as the destination.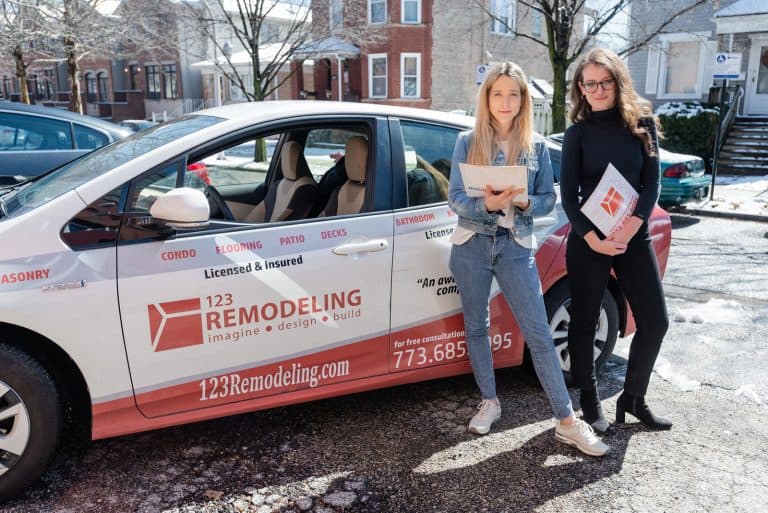 General Manager, Principal
As Operations Manager, Ariel provides hands-on support for both our staff and clients. During his 16+ years in the construction industry, he has overseen hundreds of remodeling projects, many of which are in Chicago's high-rise condominiums.
Ariel's familiarity with the needs of condo associations, building management companies, and the tenants they serve gives 123 Remodeling an advantage over contractors who have not learned the ins-and-outs of these homeowners needs. As a project manager, Ariel's creativity and practical knowledge truly stands out. See the partial list of his projects below for an idea of his abilities.
When not on a project site, shopping with a client, or meeting with suppliers, Ariel is playing soccer, walking his Chocolate Lab Zena, or spending time with his wife and daughters.
Our project manager was Ariel and he was great! The crews were awesome, clean and respectful. The work was top notch and we love both the kitchen and bath.
Ilyana's background in fine arts makes her the perfect candidate for bringing a fresh look to your home. With her sensibilities and attention to detail, any room can become a work of art.
Ilyana strives for creative authenticity in her design, while fostering positive relationships with clients who range from first-time remodelers to experts in all things HGTV. She will help you design rooms, choose the materials, and travel take you to as many showrooms as you need to find exactly what you're looking for.
Her other creative pursuits revolve around printmaking and good food.
Tal's aesthetic is all about clean, modern lines. She works to design homes that sing of elegant simplicity, while incorporating some international influences.
Tal's strong organization skills will help you sort through your options as quickly and easily as possible while you build your dream home. With a background in real estate, Tal is a major asset to clients looking to increase their home's resale value on a budget.
Off the clock, Tal is all about eating sushi, spending time with her husband and son, watching Friends, and spoiling her dog, Mia.
Tal and crew did an amazing job of remodeling our bathroom. She was professional, prompt, responsive, and everything turned out better than anticipated in a very quick amount of time. 
Renata is the newest member of our team, and brings with her a refined understanding of spaces and finishes. Her experience as an Interior Designer and passion for creating functional yet beautiful spaces allow her to guide clients toward the best version of their homes and businesses. She excels in the planning and preparation stages of projects, and will get yours off to the best start possible.
Outside of design work, Renata is interested in fashion, dance, and paleo cooking.
Property Development, Principal
Sharone is a successful entrepreneur who has built and sold numerous companies, both in the Chicago area and internationally. After years of managing renovations on several of his own properties, developing a streamlined methodology for construction management, Sharone founded 123Remodeling. Over the years, he has maintained this work ethic as the core of our company's operational philosophy.
Sharone is also the Managing Partner for Earthgroup, known for commercial and residential real estate investment. In addition to community economic development, Sharone regularly facilitates philanthropic services for property development in community centers. 
He lives in Skokie with his wife and two children.
The people at 123 Remodeling Inc are detail-oriented professionals who take pride in their projects. They make customer satisfaction a priority and we have seen them deliver it time and time again!