So you're ready to make the jump and remodel that kitchen?  Your reasons may vary, to upgrade appliances, increase home value and/or "re-map" the layout of the entire kitchen.  Here we will take into consideration 6 major elements when kitchen remodeling: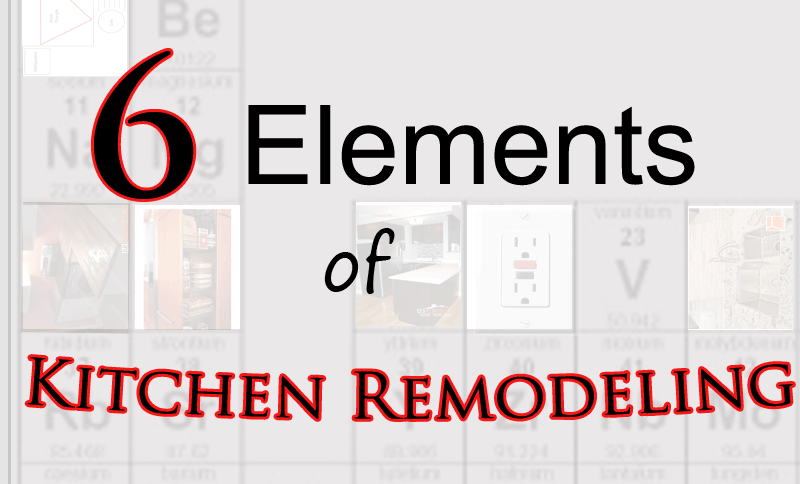 The Layout – "Work Triangle"
Appliances
Material Selection – Flooring/Countertop
Storage
Electrical – lighting, outlets, ventilation
Glamour – paint, backsplash, fixtures
---
1. The Layout – should be the first element to consider, as the kitchen can serve multiple purposes.  Currently an open layout, connecting a living or dining room to a kitchen,  is very popular with a kitchen island.  This layout offers the kitchen a place to meet, eat and cook.
Cooking being the main purpose of the kitchen, the 3 major components to cooking: sink, refrigerator and stove, are commonly referred to as the "Work Triangle".  Unobstructed flow within the "Work Triangle" is essential to claim efficiency and maximize functionality for the kitchen.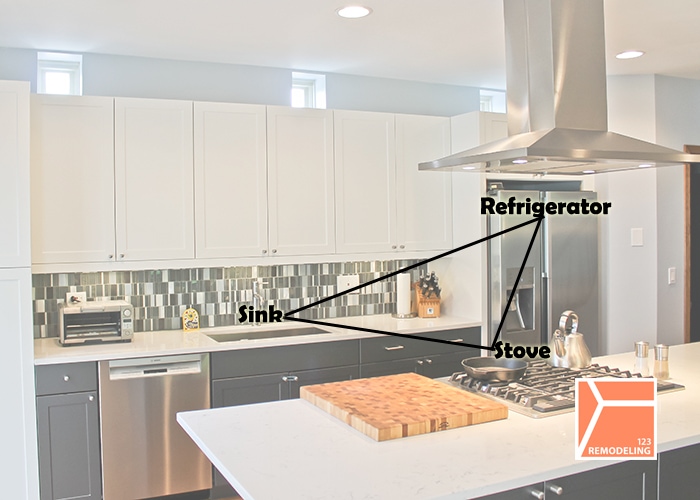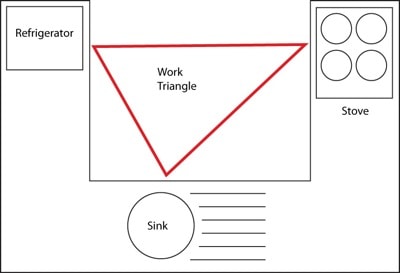 In this kitchen that was remodeled, a dividing wall was replaced with a functional kitchen island (stove/range, storage, prep area, & electric outlets), and this shows the connected dots of the "Work Triangle".  Notice how the butcher block is placed next to the stove/range top to chop-n-cook with ease.  Also notice the placement of dishwasher  – next to the sink, with cabinet storage surrounding the dishwasher for storage kitchen items after cleaning.
---
2.  Appliances – when upgrading or replacing kitchen appliances keeping a consistent theme is vital.  The kitchen is the most exposed room in the home and the main focal point.  This being said, a combination of different colored appliance can really be an eye sore and detrimental to the overall home's appearance.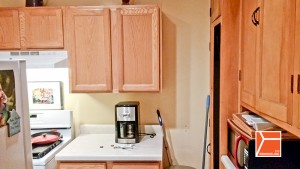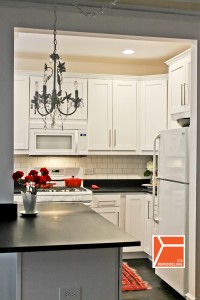 The overall appearance offers unorganized, displacement and lack of planning.  This same kitchen was remodeled with emphasis of consistency and unity to produce a stunning kitchen which raise the overall home appeal.
The kitchen remodeling project re-arranged the appliances to maximize space within this smaller area.  Here the refrigerator was moved to a better spot in the kitchen.  An overhead microwave was placed above the stove/range to keep all the "cooking" appliances in one place.
White is the color to create visual space as well as brightening up the entire home.  The white appliances are essential to making this smaller kitchen an inviting place to cook, clean and co-mingle.
---
3.  Material Selection – there are many types of different flooring or countertop materials to choose from.  The main decision making factors would be the purpose and budget, as we will be breaking down each option under 3 budgeted scenarios, 1. Low Budget – 2. Medium Budget – 3. High Budget.  [The following costs estimates include material + installation from Homewyse website.]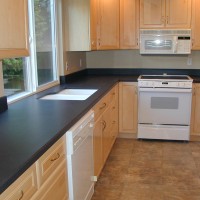 1.  Low Budget  – options include vinyl flooring and laminate counter-tops.  Both materials are water and stain resistant and come in wide range of colors and style.
Their lifespan is about 10 years, which gives the owner the flexibility to update with any trends.
Weaknesses include the burn-factor, both materials are made of plastics and are susceptible to melting.  Also cutting directly on plastics will leave slash marks that are difficult to repair.
Costs
Vinyl flooring  =  $3 per square foot
Laminate countertops  =  $32 per square foot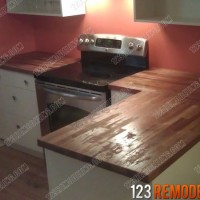 2.  Medium Budget  – options include laminate flooring and butcher block counter-tops.  Both material are water and stain resistant and come in wide range of colors and style.
Life span is about 15 years, which gives the owner the durability as well as style to suit your home.
Weaknesses include the repair costs of damaged laminate and water damages unaddressed can cause warpage/splitting.  Also limitations of color and style.
Costs
Laminate flooring  =  $6 per square foot
Butcher block (wood) counter-tops  =  $50 per square foot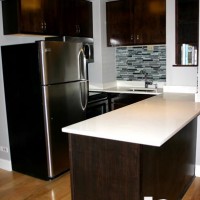 3.  High Budget  – options include Tile / Hardwood flooring and stone counter-tops.  For those thinking "long run" and want the best of the best in a kitchen with the "wow" factor.  Tile flooring materials include porcelain and ceramic.  Stone counter-top materials include Corian, granite, quartz, soapstone, travertine and marble.  Smaller kitchens with minimal square footage and smaller table surface area can mitigate a higher budget for material selection, as each and every square foot will create a drastic difference.  Both of these material groups are stain resistant and have a high threshold for heat and water elements.
Life span is about 25-50 years, depending the care of the owner.
Weaknesses include high repair costs and a larger initial investment costs.
Costs
Hardwood or Tile flooring  =  $10 – $15 per square foot
Stone counter-tops  =  $70 per square foot
---
4.  Storage
Kitchen items can vary in size from smaller utensils to bigger pots and pans of course all the ingredients like food, spices, and cups/plates are all vital to success in the kitchen.  Also keeping these these items sanitized and ready to use are essential to cooking and keeping a tidy and organized work station.  Getting creative with storage in the kitchen with creative ideas and modern day products to help efforts in the kitchen.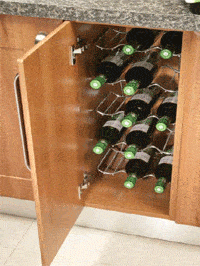 Currently there are all types of solutions for common issues in the kitchen.  Built-in organization shelving, open shelving systems and hanging-on-wall systems are available depending on one's personal needs and kitchen design constraints.
Whether you are a wine connoisseur or an expert chef needing fast access to all the spices and oils the right solutions is out there. An easily accessible pantry next to the fridge invites good use and mobility when grabbing a quick bite.
Careful planning and consideration of all the options available tailored to your specific needs will ultimately define the success of creating storage where you need it most.
---
5.  Electrical 
With today's technology, electricity drives appliances, lighting and as a source station for all our electrical tools.  A coffee-maker, food processor, blender and even your cell phone/tablet needs a place in the kitchen to power these items.
Any re-arranging of kitchen appliances will require a licensed electrician to wire electric lines to the designated area.  Ventilation above stove/range along with overhead lighting are essential.  Keep in mind that all electrical outlets above a countertop will require GFI protection.  Electrical outlets near a sink or any source of water within 8 feet must be protected with GFI to meet the electrical code properly called the National Electrical Code.  All outlets above any countertop must be GFI protected as well.  Source cited from About.com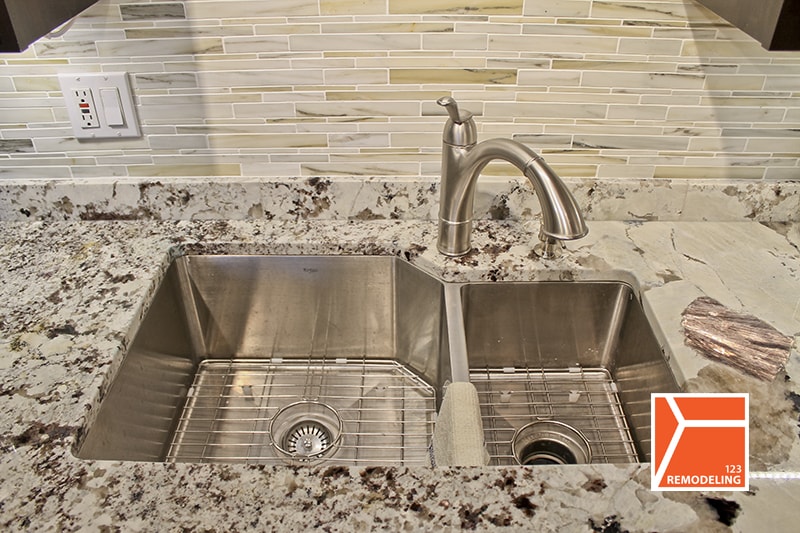 Lighting in the kitchen is vital since cooking demands a bright working area.  Lighting can also be a focal point as well as setting the tone of the entire kitchen.  Choosing the right style of lighting can be difficult and rewarding when you consider all the options available along with your home's theme.  Today there are LED options and compact florescent lighting options as Energy-efficient lighting sources.  LED bulbs offer 85% more energy savings as incandescent and lasts up to 25 times longer. compact florescent bulbs offer 75% more energy savings as incandescent and lasts up to 10 times longer.
---
6.  Glamour
A glamorous kitchen? For those who are serious about their cooking, or have little ones running around, a kitchen isn't a place for glamour. It's for making a mess, feeding the masses and wreaking havoc. Despite how strange it may seem, making your kitchen a glamorous space will actually make you want to spend MORE time in the kitchen – gathering with family, friends, cooking, creating, and even doing homework.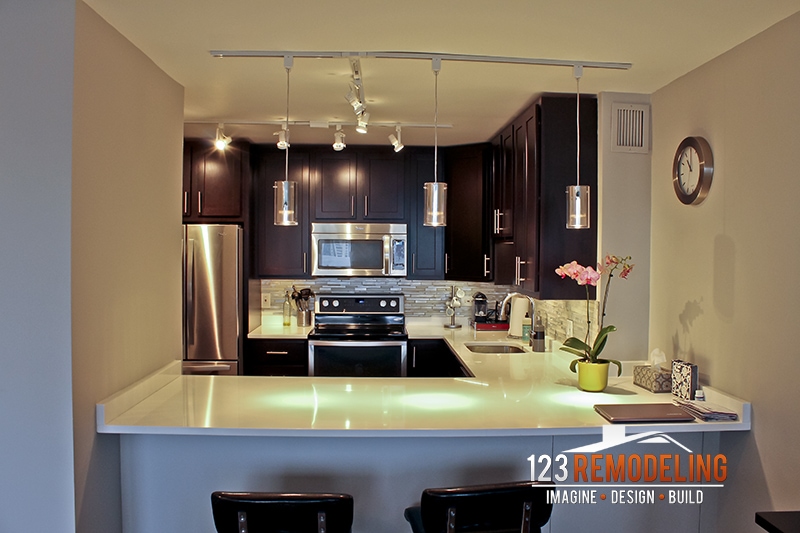 Another goal when remodeling is creating a warm atmosphere for the entire home.  Comfort in seating, large table surface area and open layout with kitchen island will invite sociability to promote more time spent together.  All the elements will account to a glamorous kitchen. The kitchen is the most versatile room and main reason kitchen remodeling produces a great ROI.
---
In conclusion of the 6 vital elements in kitchen remodeling, careful analysis before development is the first step to any kitchen remodeling project.  With all the styles and flavors of materials available in today's market, executing a "perfect" kitchen remodel is within grasp, meeting all desires and needs for each household.  The kitchen being the hub of the most important times (meet, eat and cook) throughout the day and forthcoming future.
Creating the space to meet and exceed these requirements will require thorough planning and analysis of these 6 elements in kitchen remodeling.  If you live in Chicago or the surrounding area, consult 123 Remodeling with any questions or ideas for your next kitchen remodeling project at (773) 685-6095, or click the button below to schedule a free consultation:
[button style="btn-warning btn-large" url="https://123remodeling.com/free-consultation/" size="" block="false" target="_self"]Get a Free Consultation[/button]
Please share your comments below, as 123 Remodeling would love to hear from you, as we are always looking for ways to better inform our readers of current events and remodeling trends.  See our recent blog entries or leave a comment below with your ideas, we will send you a note when we publish our next post!