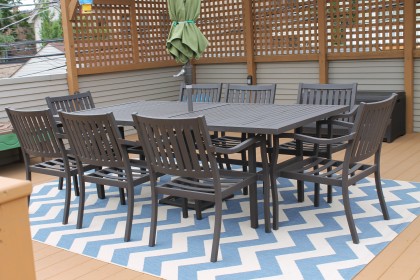 Roscoe Village Wood Deck and Staircase Repair –  Installation of Premium Composite Deck Boards
On this project we replaced 1200 square feet of decking throughout the upper & lower areas including the stairs. The patio deck area's previous wooden planks were damaged by Chicago's extreme weather conditions making this outdoor space unusable.  The entire patio deck area including staircase and hand-railing have been replaced with Premium Cedar Composite Decking Board.  
See the complete project in detail.
The homeowner additionally has coated the entire patio deck area with a fresh coat of weather-proof decking paint for extra protection.  All 1200 square feet area was also reinforced to provide a safe and visually appealing space to entertain outdoors for any occasion.
Deck/Porch replacement and exterior remodeling adds usable backyard space and instant ROI for the homeowner.  123 Remodeling has completed projects for condo, bathroom, kitchens, basements, complete gut and many more project – see them all at our Project Gallery.
If you live in Chicago or the surrounding area, consult 123 Remodeling at (773) 685-6095, or click the button below to schedule a free consultation:
Please share your comments below, as 123 Remodeling would love to hear from you, as we are always looking for ways to better inform our readers of current events and remodeling trends.  See our recent blog entries or leave a comment below with your ideas, we will send you a note when we publish our next post!