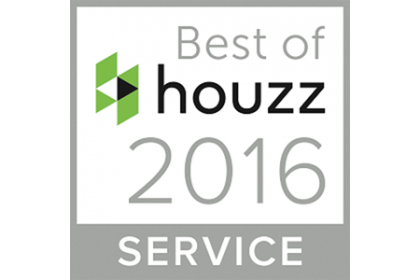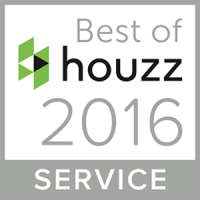 123 Remodeling starts the New Year off with a "BANG" by winning the Best of HOUZZ award winner 2016. We are proud to have received this award for the third consecutive year for Client Satisfaction. Houzz.com is a home remodeling website and online forum with over 8 million users. The Houzz community collaborate and share ideas, photos, recommendations and reviews of their experience with remodeling companies.
The annual award is described by Houzz – "This professional was rated at the highest level for client satisfaction by the Houzz community" in the form of badges. See all of our recognized badges on Houzz.com.
Potential customers depend on their independent methods of research with Houzz as the "go-to" website along with sources like Guild Quality, Yelp and the BBB websites. With the growing dependence on user reviews, credibility for remodeling companies weighs heavily on customer experience whether good or bad – users will let others know through their preferred online sources. Click the image below to read our Houzz reviews and view our profile in detail.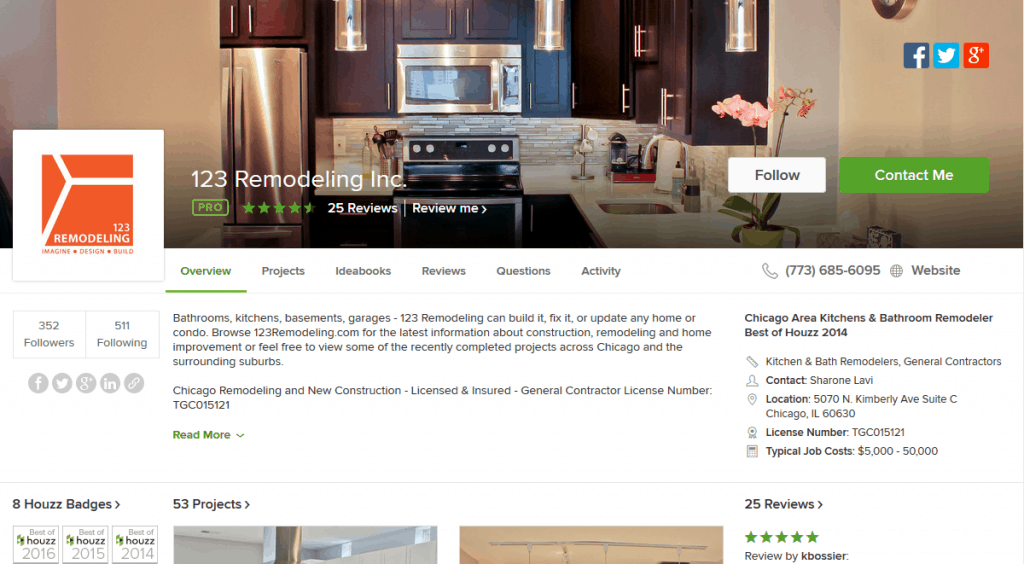 Displaying the finished product on a heavily supported online community such as Houzz.com provide credibility and evidence of experience craftsmanship for remodeling companies.
123 Remodeling actively engages with Houzz members in the form of posting completed projects, participating in Q&A user forums, usage of Houzz's "ideabooks" to provide advice about the remodeling industry. Paul Roberts, Office Manager at 123 Remodeling, responds to user request for services of potential remodeling customers, as well as maintaining the 123 Remodeling company profile with news and/or events which occur on any given working day.
"Using Houzz as a digital collaboration tool, I enjoy the effortless manner in which Houzz.com offers to communicate with Houzz members of past work and current trend setting methods within home remodeling as provided by 123 Remodeling company."
Along with our third consecutive "Best of Service" award, 123 Remodeling's list of Houzz badges include – Houzz Influencer, Recommended on Houzz, Star Houzzer, see all our badges – click here.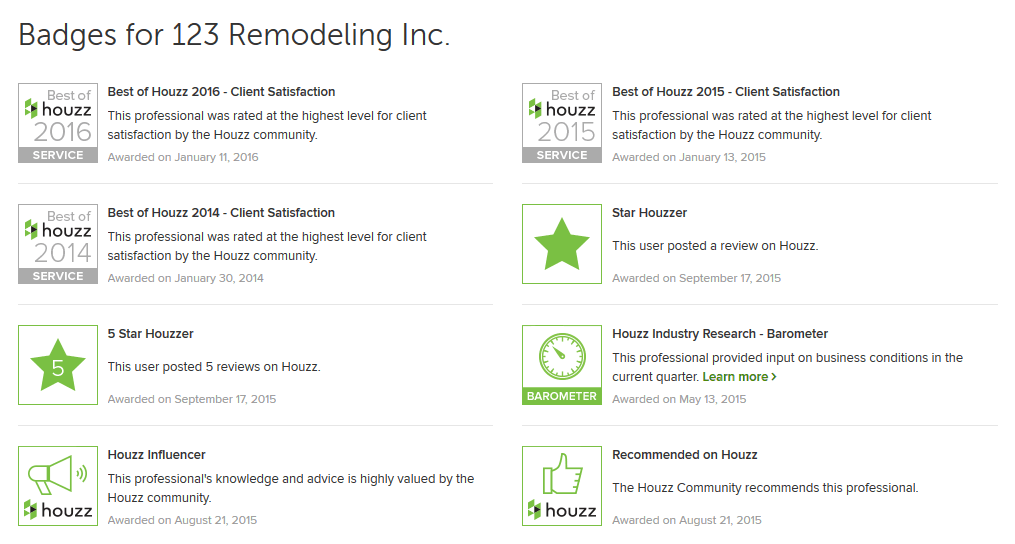 The 123 Remodeling website is the place "Where it all starts", as our completed projects gallery highlights each project from its beginning to its end. Our customers will find value in the finished product as well as how the project was formulated through 123 Remodeling 3-step process – Image, Design and Build.
Whether the project is a single project like our Roscoe Village Deck Replacement, or a home remodeling project like our South Loop Townhome to even a complete gut rehab project like our Jefferson Park Building Renovation, the 123 Remodeling website showcases our craftsmanship and customer dedication, as the "The proof is in the pudding".

If you would like a free consultation to discuss your next remodeling project and you live within our service area, contact us at 773-685-6095 or fill out our online form. We look forward to meeting you.