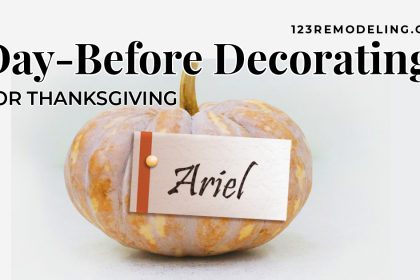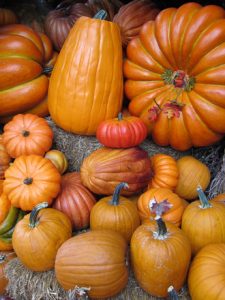 As I was walking to my office the other day, I saw that one of the houses I routinely pass had turned around its plastic jackolantern lights to be Thanksgiving pumpkins. And while it's certainly clever in a pinch, I think we can all do a little better when it comes to our holiday decor.
That is to say, we can use real pumpkins.
I get really into the capitalism side of Halloween every year, solely through the volume of both candy and pumpkins I purchase. I have a problem, and I acknowledge it. However, whereas the candy doesn't tend to last the month, I always have too many pumpkins by the time I start writing holiday cards in mid-November.
So if you're like me and find yourself with too many pumpkins and too little time to put effort into Thanksgiving decorating, I'm about to solve at least two of your problems. Here's a few small ways to make your house say "Happy Thanksgiving" instead of simply "I shouldn't be trusted around pumpkin farms."
The Bare Minimum

If you've stumbled upon this the literal day of Thanksgiving, then the absolute easiest thing you can do is just put those pumpkins in a good spot. Windows, stairs, just anywhere that looks like it can host a small accent piece. The most important thing is to move them from wherever they were, so dinner guests assume that these are different pumpkins than the ones you had out for your Halloween party.
Centerpiece
This is a no-brainer. Every holiday table needs a centerpiece, and Thanksgiving especially. Simply throw the cute little pumpkins in a basket, glass vase, or cornucopia (if you really want to give the impression that you tried).
Add flowers or fallen leaves and some nice candles (not too close together – fires ruin Thanksgiving every time), and you have a classy little piece of harvest art.
Updated Carving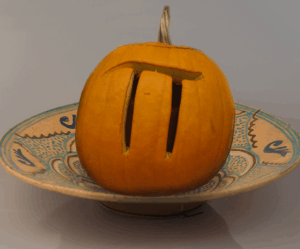 Maybe you were really busy over Halloween and never got a chance to make some spooky jackolanterns. I promise it's not too late.
Sure it might be strange to make your pumpkin look like a skeleton or carve a bat into it, but you have options. Maybe a happy face, then add a construction paper hat to make a pilgrim. Use this as an opportunity to carve turkey in more ways than one. Or you might get a bit clever and make pumpkin pi as seen here.
There are also plenty of ways to paint pumpkins if that's more your speed, from intricate illustrations to leaf stencils to just flat fall colors.
Turkey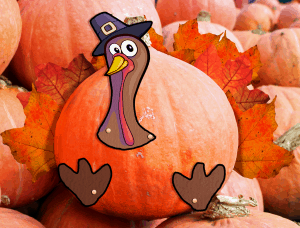 On the subject of decorating those pumpkins, here's a fun one for your kids that doesn't involve knives.

What you'll need:
A pumpkin

Leaves

Glue, tape, or push pins

Markers and craft paper

Safety scissors
All you have to do is attach leaves to the back of the pumpkin with your adhesive method of choice, then make the turkey pieces. You can draw out something really nice, or, if you're not particularly artistically inclined, you can print something off Google and cut that out. For those who want to go all out, get some craft foam which looks better (but which I didn't have time to find) and takes glue really well. Attach all the pieces, and you have your turkey. Side note: using tape or glue might take some experimentation to stick to the pumpkin. Personally, I just find it really satisfying to push pins into pumpkins.
This one is especially great for keeping the kids out of the kitchen while you're trying to do some hardcore cooking.
Placecards
I saved this one for last because I think it's cute and brings some class to the table. Get small cards – index or business, whatever works – and either write, print, or shanghai your friend who takes calligraphy classes to make everyone a name card.
Then you just attach them to those tiny pumpkins that you bought because honestly they're so cute and what right does any pumpkin have to be so tiny anyway. Now you have a creative way to tell your guests where they're supposed to sit (like this one I made for my boss without asking). The best part is that you still get that sweet push-pin-in-pumpkin sensation.
---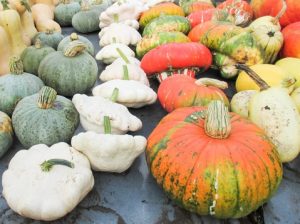 A little creativity goes a long way, especially when you're a chronic procrastinator. So take 15 minutes, put those extra pumpkins to use, and then get back to figuring out how you're going to purchase a turkey and cook it 3 hours before dinner. If all else fails, at least you can make pie out of some of the pumpkins.