Small Bathroom Remodeling – 5 areas revealed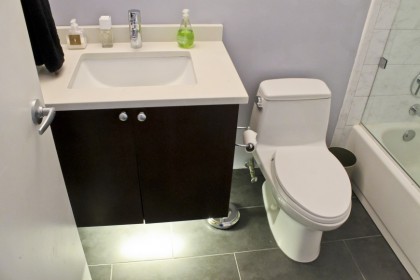 In May 2015 the median home sale price in the City of Chicago was $288k, an increase of $50k in the 2 year span from May of 2013 when the median sale price was $238k. That's a 10% increase on your real estate investment each year!
Location, location, location… being at such a premium, prices are soaring in areas such as the Gold Coast, Lincoln Park, Streeterville, West Loop, and River North. Resale prices for condos in 14 River North buildings hit $426 per square foot in the second half of 2014, that's an increase of 23% from two years earlier, according to a recent report by Chicago consulting firm Appraisal Research Counselors.
Property owners aware of their valuable assets are aware that every square foot counts, especially in downtown Chicago hi-rise condominiums, where prices are high and value increases every year. With these facts, investing in bathroom remodeling for your condominium is a must, since every square foot is potential increased value.
5 MOST IMPORTANT AREAS to small bathroom remodeling success.
1. WET AREA
Does your lifestyle demand a bathtub?
Shower – Since most condo units are smaller in size, relatively, the bathroom may lack the square footage for a bathtub. Replacing an used bathtub with a custom designed walk-in shower increases functionality and raises appeal.
Bathtub – Ideal for families with young children. Families in hi-rise condo units needing a bathtub might consider the following. If you have less than five feet of clearance but still want a bathtub, don't despair.
2. VANITY
How replacing a vanity can create space in small bathrooms.
Vanity, pedestal or wall-mount sink? Save real and perceived space by installing a smaller vanity, a pedestal sink or a wall-mounted sink. Mirrored with built in storage if you need medicine cabinet access.
Here we created a ton of space for this small bathroom, by installing a wall-mounted vanity with lighting to replace the dated and space consuming vanity. The bathtub wall was taken down to open up the toilet area and was replaced with a frameless walk-in shower (click below to see full transformation). Lastly, 123 Remodeling installed a rectangular subway tile to go along with the rectangular shape of this bathroom.
3. TOILET
Have you seen our toilets lately?
Consider replacing your old toilet with a compact elongated model. It's the same size as a round-front toilet but provides the comfort of an elongated seat. Notice how 123 Remodeling created space and brightened up this small bathroom in this hi-rise building condominium unit in Chicago's Edgewater neighborhood.
Here in a Chicago Edgewater hi-rise condo building, 123 Remodeling replaced toilet with a slim, elongated new style, replaced vanity and installed new lighting. Flooring with ceramic wood tiles, along with the bright vivid wall color, this bathroom has opened up to more space and raised the value of this condo unit.
4. DECORATIVE
How does Color, Tile and Lighting effect a small bathroom?
Go bold! Strong colors make a room pop. Since the bathroom is one of the most used rooms in a home, spending and investing in quality materials will build character as well as raising appeal. Using smaller tiles can make the bathroom look a lot bigger.
Lighting is essential and strategically placing the lighting, using recessed lighting in the shower, using the right light fixture, even the use of under vanity lighting are options to consider.
Keep it simple. In a small bathroom, busy patterns can overpower and appear to shrink the space. Bright, light, natural tones lend an open, spacious feel. If you want to get creative, play with textures rather than patterns.
5. STORAGE
How we create storage for our small bathroom remodeling projects…
If you choose to forego a vanity, you will want to add something to make up for lost storage. You can choose to go with shelving here are some ideas.
123 Remodeling also can custom build storage in the areas that need it most, like near the sink and in the shower/bathtub area. Notice the beautiful back-splash and the built-in storage within the bathtub wall.
Shelves fitted into a corner, next to the toilet provides a lot of storage in a little space.
123 Remodeling services Chicago 's residential and commercial property owners from bathroom remodeling, kitchen remodeling, basement remodeling, interior and exterior projects in and the surrounding suburbs with an "A+ Rating" by the BBB since 2007. Proudly serving Chicago's North Shore suburbs, Lincolnwood, Skokie, Evanston, Niles, Park Ridge, Morton Grove, Glenview, Wilmette, Winnetka, Glencoe, Northbrook, Deerfield, Highland Park.
Contact 123 Remodeling at 773-685-6095 to consult one of our experienced remodeling experts to imagine, design and build your next bathroom remodeling project.
Get a Free Consultation