Shower and Bathtub Design

Our professional bathroom remodeling design team at 123 Remodeling can provide many bathtub, shower, or even whirlpool solutions – for bathrooms of any size or shape. Bathroom sizes can vary from home to home, but our design team will work with the boundaries by incorporating space saving bathroom layouts yet making it elegant and functional.
A proper bathroom remodel begins with installing a shower or bathtub that will not only make the bathroom a more inviting place, but add real value to your home. There many options for tubs and showers. Below are a few examples that will hopefully give you some ideas and kick-start the remodeling process.
Whirlpool Tubs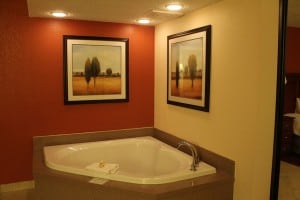 A whirlpool tub is a luxurious option that can increase the resale value of any home. They can help ease aching muscles and joints with a combination of warm water and the massage like bubbling of jets.
Whirlpool tubs have many health benefits, including stress relief, improved blood circulation, deeper sleep, arthritis relief, and general pain relief. If you're interested in these benefits then a Whirlpool tub may be the best option for you.
Walk-in Showers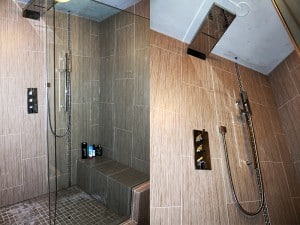 Modern walk-in showers feature an open-end for entry and come in a variety of shapes and sizes. 123 remodeling experts can also customize a walk-in shower to meet any specification. It is advised not to install a shower tray. Although they offer proper drainage, they take away from the aesthetic value of a luxurious shower.
Benefits of walk-in showers include increased safety, enhanced appearance, space-saving design, and easy maintenance, compared to traditional bathtub/shower designs.
Steam Showers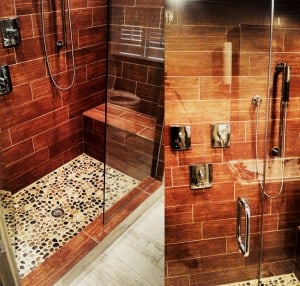 Steam showers are luxurious and relaxing. They are frequently a stand alone shower that includes a traditional shower head and a steam generator that produces steam vapors. Steam showers require special, self-contained enclosures to prevent steam from escaping and damaging drywall, paint, and wallpaper.
Steam showers have many health benefits, including clearer skin, infection treatment, increased circulation, stress relief, increased metabolism and weight loss. A steam shower might be the perfect addition to your newly remodeled bathroom.
Prefabricated Showers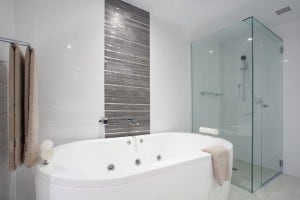 Prefabricated showers are single or multi-piece stalls molded from fiberglass, laminate, or acrylic. They are a convenient and reliable solution but offer very little character, especially when compared to custom tile stalls.
The benefits of prefabricated showers include cost-effectiveness, ease of installation, and durability.
Upgrade Your Bathtub or Shower
Do you want a new bathtub or shower like the ones above? If you live in the Chicago area, we can help. Our professionals at 123 Remodeling would love to remodel your bathroom.
With the help of our experts, you'll look forward to waking up every morning to your brand new shower.
Contact us today for your free consultation. Just click the button below or Call us at 773-685-6095. A member of our staff will help you arrange an appointment to meet with one of our experienced Project Managers.
Get a Free Consultation