When a bathtub needs to be replaced, home owners are enticed in buying a new bathtub.  They can visit a home improvement store and buy a new inexpensive bathtub for less than $500.  However, they do not realize the hidden costs involved in replacing a bathtub.  The cost of demolition, removal of bathtub, and hiring a plumber to reattach all of the pipes or install new plumbing fixtures can range from $1,000 to $4,500.
Bathtub Refinishing Process
Refinishing is a process of resurfacing your existing bathtub and sinks to like-new condition. Our professional Chicago Bathtub Refinishers and refinishing products can repair almost any porcelain bathtub, fiberglass bathtub, ceramic bathtub, or acrylic bathtub. Refinishing will save you up to 85% over replacement costs and last for decades to come. One huge selling point of bathtub refinishing is that the bathtub does not need to be – and should not be – removed and taken to a shop. Refinishing is done on-site and takes about 4 hours to complete.
Most refinishing technicians are highly aware of the fact that they are in a private residence, so they take many precautions to minimize over-spray and other mess. At some point – perhaps due to comments from readers – I decided to dig deep into the often-shifty world of bathtub refinishing. It's a fast, inexpensive way to spiff up your bathtub or shower, just as all those ads claim.
Is bathtub refinishing better than bathtub removal/replacement : It's better than you might think, and it does work.
Does it work forever? No. It will peel eventually (it's paint, after all).
Can you do it yourself? Yeah, sorta-kinda…not really.
Is it cheaper than a bathtub liner? Yes.
So, presented for you here is the entire universe of "everything bathtub refinishing related" (at least to this point!), from About Home Renovations.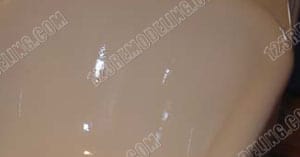 Replacing an existing bathtub with a brand new one can often involve more time and money than one might imagine. Several issues come into play that some people often do not think about when considering this type of remodeling project: If the bathroom is small, it may be necessary to remove the toilet, sink, and cabinets before there is room to take the old bathtub out. If the original tub is very old, it may be necessary to replace much of the original plumbing. This requires hiring a professional plumber, which adds to the cost of the project.
Many old bath tubs were installed during the construction of the house.  There may not be enough room to get the old tub out and install a new one within the walls in place. If this is the case, it may be necessary to open up a wall in order to get the job done. Most new bathtubs differ in size from their older counterparts. If your new tub doesn't exactly match the dimensions of the older one, it will be necessary to remove and replace the molding and floor covering on which the tub sits. This may also mean removing or replacing floor tiles to match the new dimensions.
Cost Comparison of Bathroom Replacement and Bathroom Refinishment
Our Refinishing/Reglazing/Resurfacing/Repair Services
Bathtub, shower base and sink repair and refinishing(reglazing/resurfacing))
Ceramic tile refinishing/reglazing
Scratches and ships repair with high performance bathtub repair product
Fiberglass (plastic) bathtub repair
Drain restoration, replacement or decorative drain cover installation
Upgrade Your Bathtub
Do you want to make your old bathtub look new? If you live in the Chicago area, we can help. Our professionals at 123 Remodeling would love to refinish your bathtub in a quick inexpensive way.  With the help of our experts, you'll actually look forward to stepping into your new bathtub every morning.
---
5 year warranty on bathtub refinishing!!!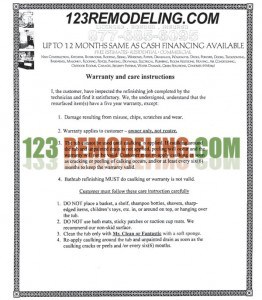 ---
Contact us today for your no obligation consultation. Just click the button below or call us at 773-685-6095. A member of our staff will help you arrange an appointment to meet with one of our experienced Project Managers.
[button style="btn-warning btn-large" url="http://123remodeling.com/free-consultation/" size="" block="false" target="_self"]Get a Free Consultation[/button]