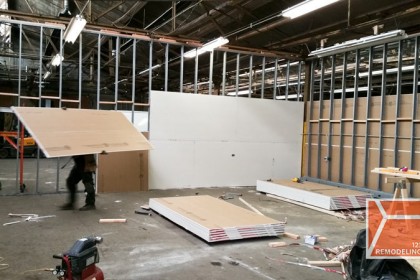 "Repurposing" is the use of a tool being re-channeled into being another tool, usually for a purpose unintended by the original tool-maker (Wikipedia).  On a broad level, one can repurpose old skis to generate a bench for sitting.
Repurposing warehouse office space used as a maintenance system to rent vacant commercial office space by division of space to occupy business needs to many people. For the benefits of an investor or building owner, the flexibility and larger target market of potential tenants, repurposing their space may be the only solution.
123 Remodeling was called to solve the problem of a warehouse property that was too large and did not suit the needs for smaller businesses.
     The answer: repurpose the space by dividing into smaller units = more potential to lease the space.
---
Here is what we did:
Division of space – into 6 units, use of steel beams, drywall and steel fencing
Build common area bathrooms – constructed 2 bathrooms for new tenants to use
Electrical circuit redesign – individual access to electrical needs for each of the new units
---
Repurposing: Who will benefit?
 The neighborhood – Offices filled with people bring life and business to the surroundings
 Small businesses

Freelancers – Working for clients "on location" needing space to occupy, meet or hold inventory/equipment
Start ups – With affordable monthly rent, potential to grow as the business does
Specialty businesses – Any business that can use commercial space for larger equipment (ie. wood mill-workers, metal fabricators)
Foundations – Non-for profit, Churches, group organization for meeting place for potentially large crowds
Providers of services – Like people providing courses and schooling, therapists, physical exercises and physical therapy with special equipment or sitting areas
      3.  The municipality – Empty office space means dead zones and decay due to the buildings and surroundings not being maintained. Dead zones become unsafe places avoided by people and have a negative effect on the cities economics as they generate no revenue for surrounding business and facilities.
4.  The building owner – As demographics change, the availability for be flexible with the square footage as needs and demand for space can change from year to year.  Ability to suit the demands of the public.
---
Get a Free Consultation
If you have any questions about redesigning, renovating or remodeling your home or business, call us today for your free consultation: (773) 685-6095.