Kitchen Remodel – 1400 N Lake Shore Dr, Chicago (Gold Coast)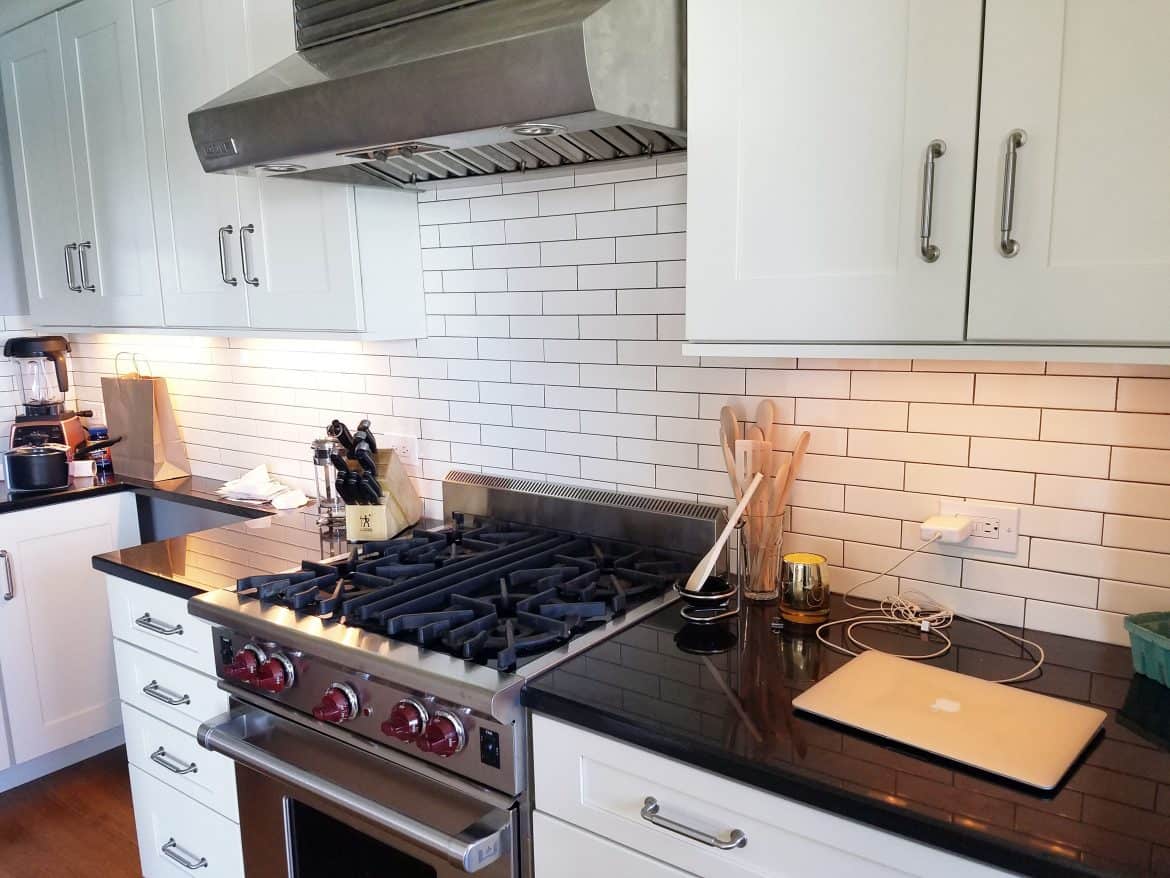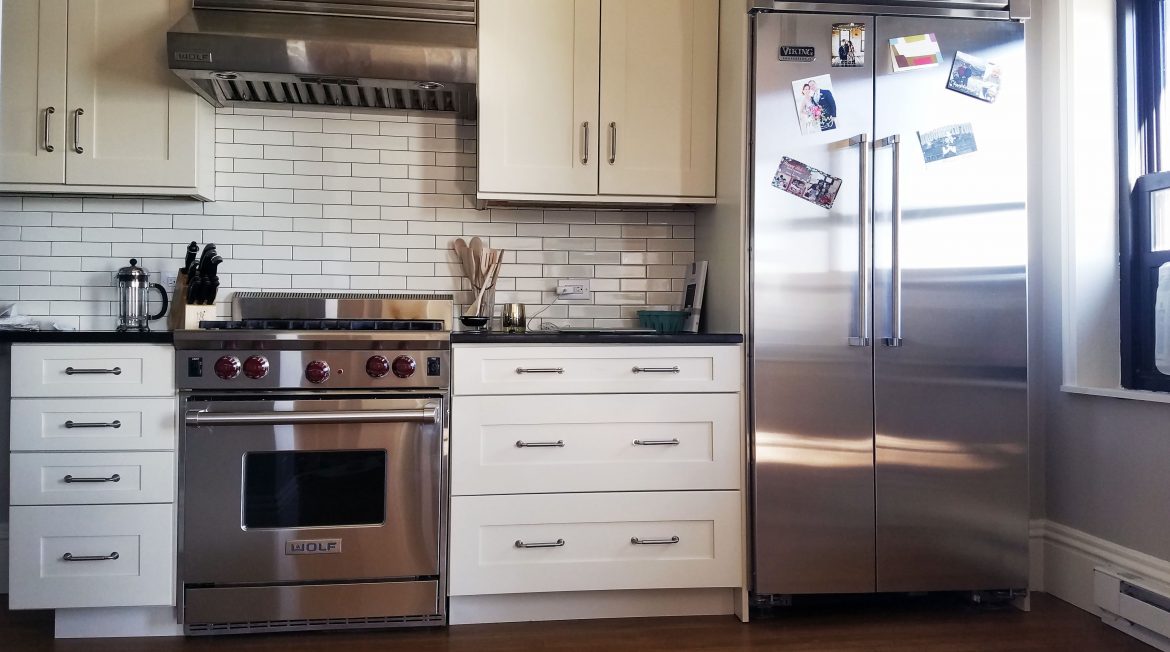 By opening up this standard kitchen, we've created a brighter, more usable space. With a few industrial elements paired with classics like white subway and shaker cabinets, this transitional kitchen is the very essence of young Chicago living.

What we did
Remove all flooring, cabinets, etc

Take down kitchen walls to create open concept look and allow better traffic.

The original kitchen had a curved peninsula and "dinette" but gave the whole space a cramped feeling and made it difficult to use the whole kitchen.
We couldn't take out the walls entirely, but moved some plumbing and wiring and opened it up as much as possible without code or safety issues.

Remove or slim columns where possible.

Remove all framed electrical boxes and conceal the new electric lines along baseboards.

Upgrade, add outlets, install new light fixtures throughout the condo.

New stainless steel appliances.

Wolf stainless steel gas range with cast iron grates.

Contributes to the transitional aesthetic, being modern but with a few retro details.

New white shaker cabinets with black solid surface counters.

Cabinets custom fit for an L-shaped kitchen, but with no corner cabinets, just two walls of straight fit.
Ceiling-height cabinets give more storage and the illusion of higher ceilings
Installed undercabinet lighting.

Full wall white subway tile backsplash.
New subfloor for better noise cancellation
Hardwood flooring installed throughout.

This creates a more polished and cohesive space than the previous set up, and allows the kitchen to become part of the full living space.

Hang the window mirror over the sink.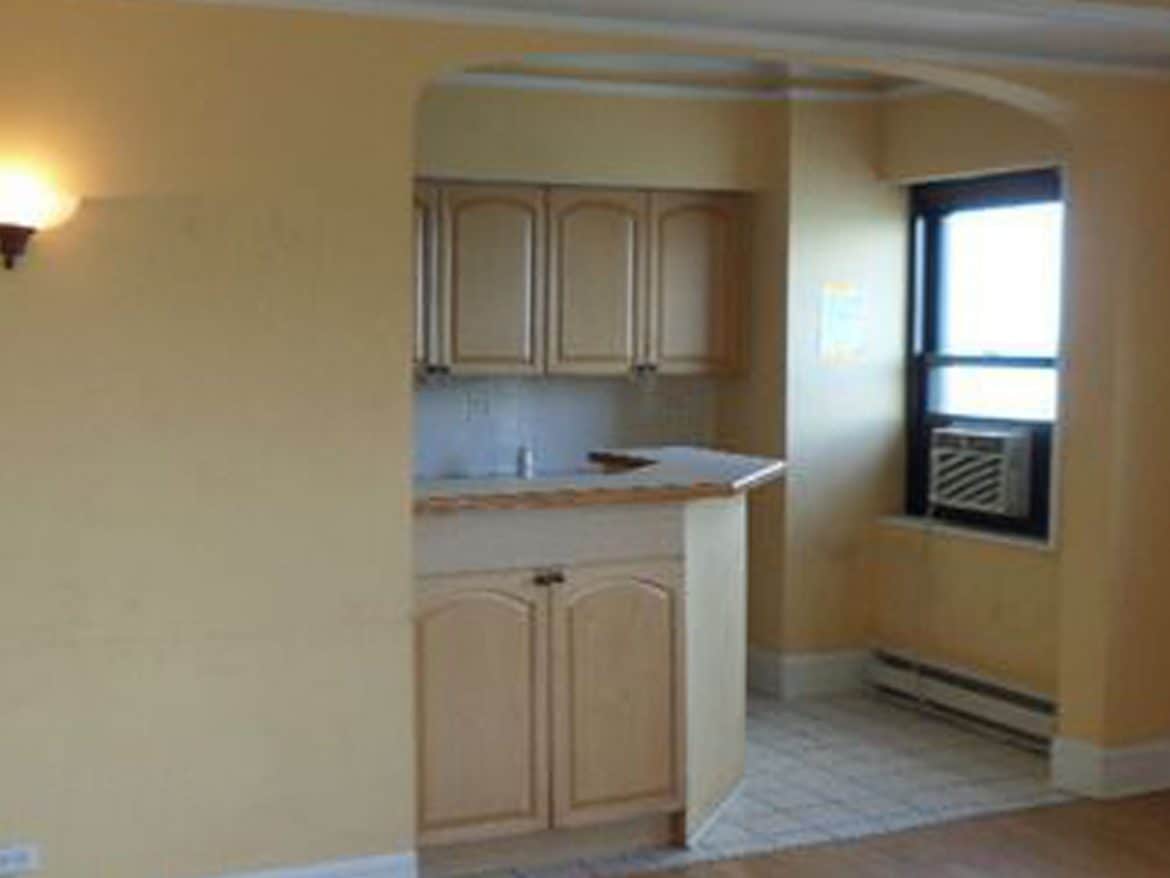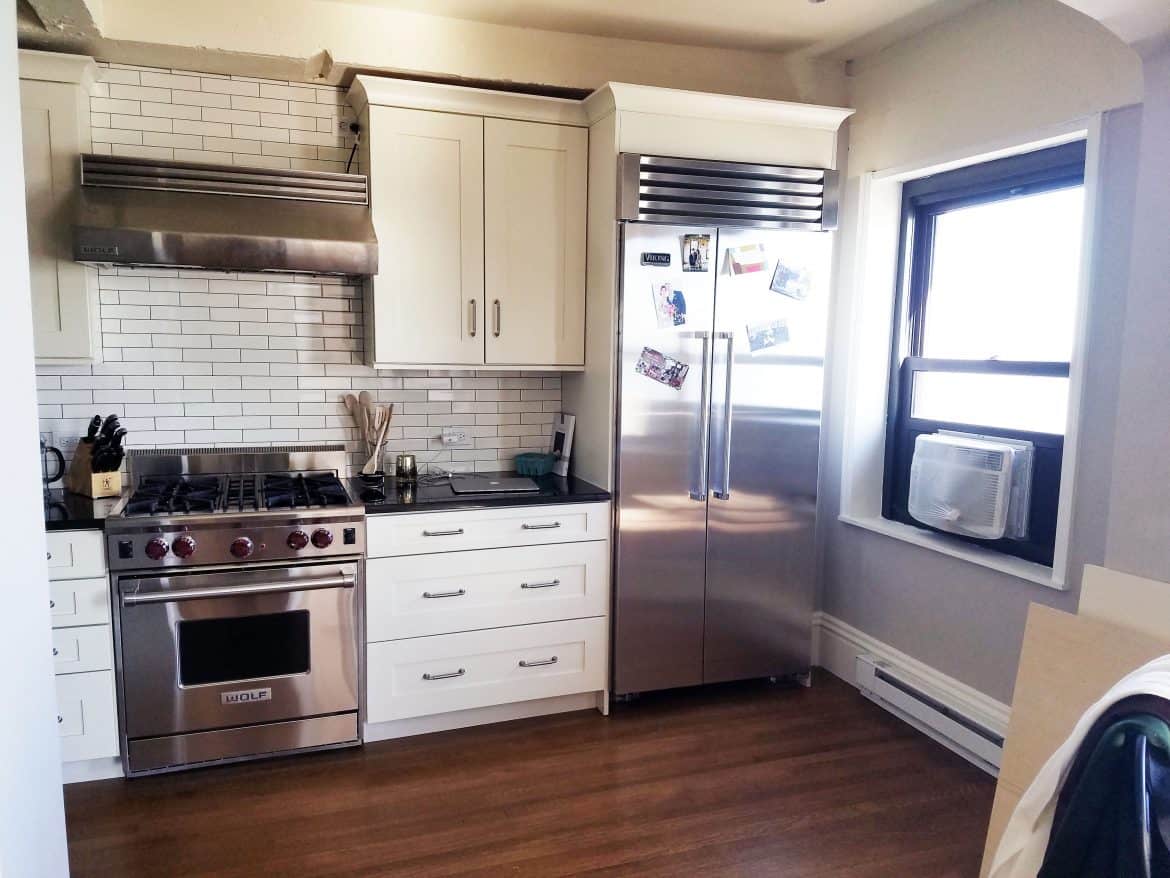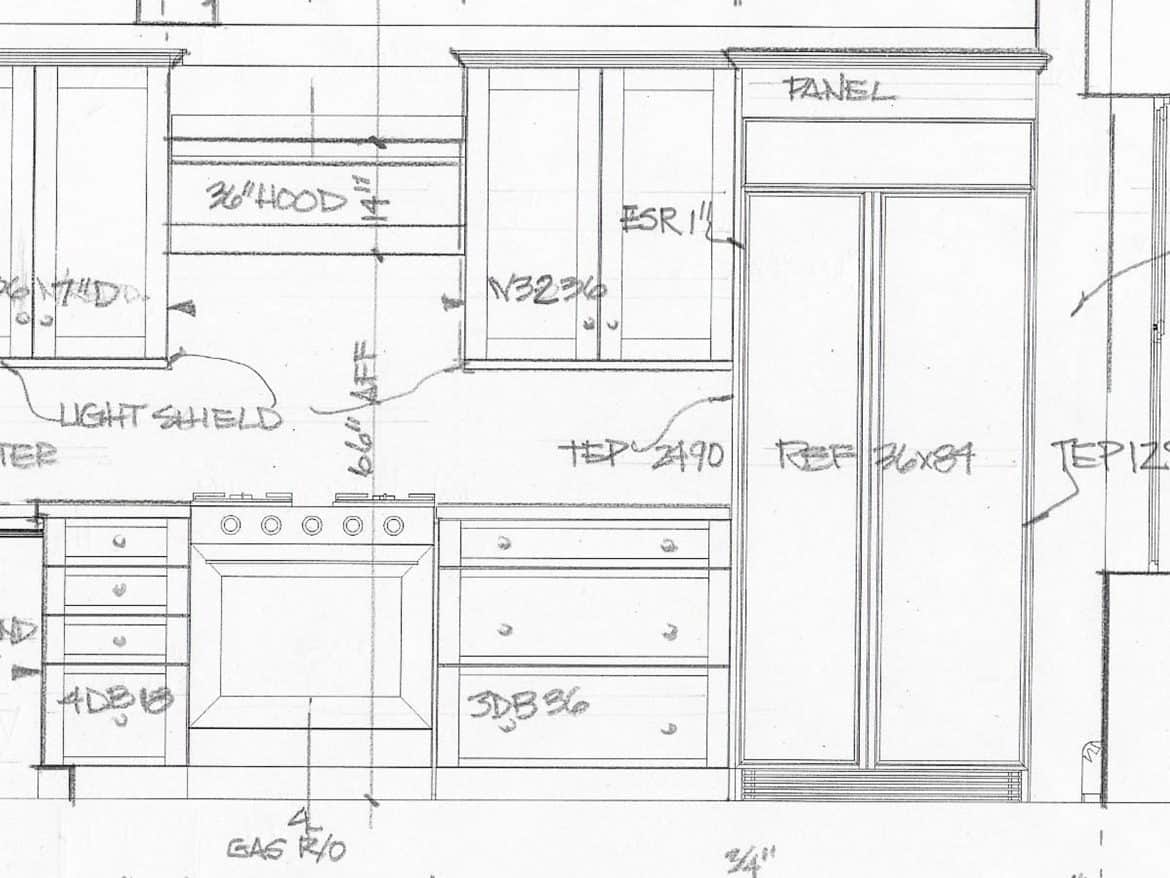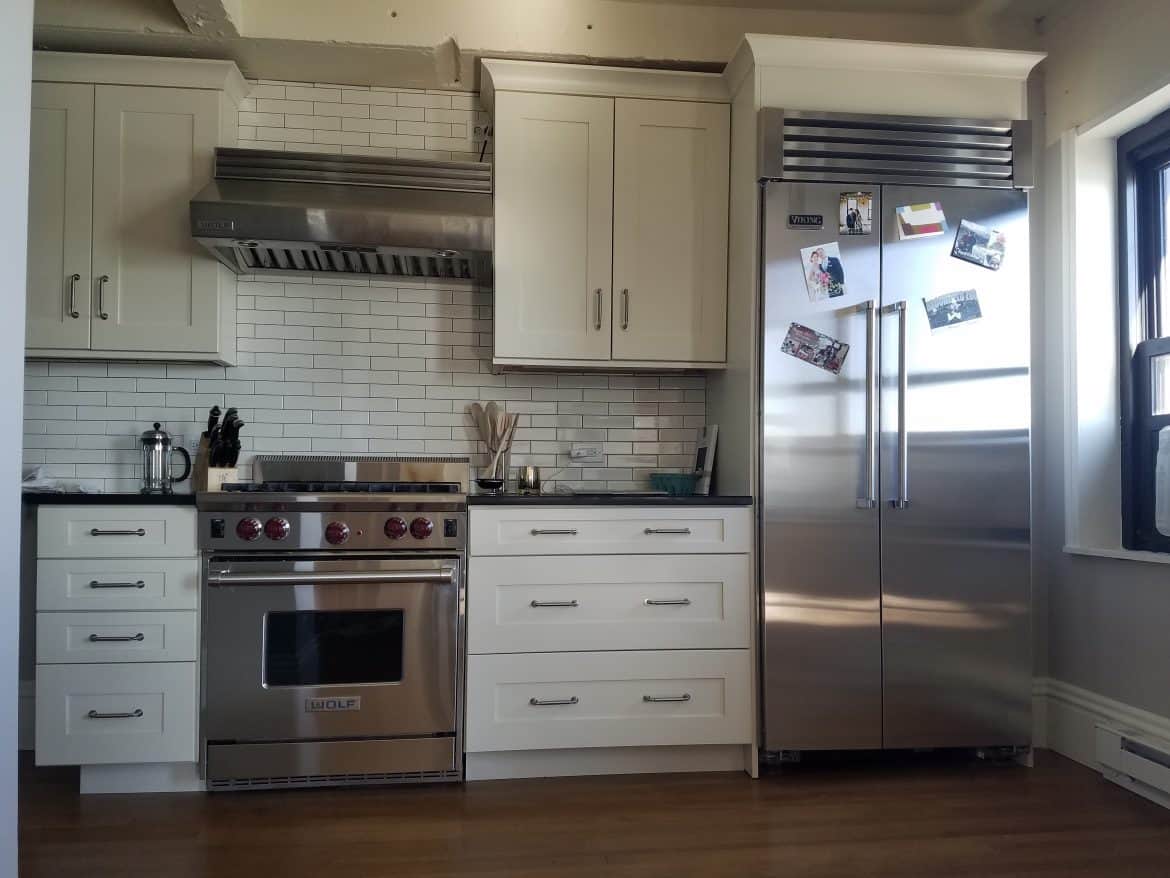 Save this room on

Give your own kitchen a much-needed update
Check out more kitchen remodel ideas
Remodel Your Home
---
If you live in Chicago or the surrounding area, call us today for a free consultation (773) 685-6095, or click the button below: