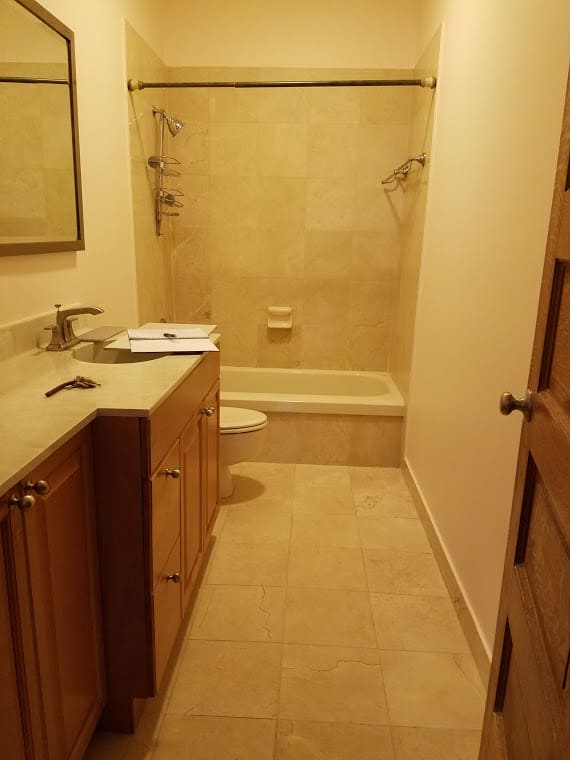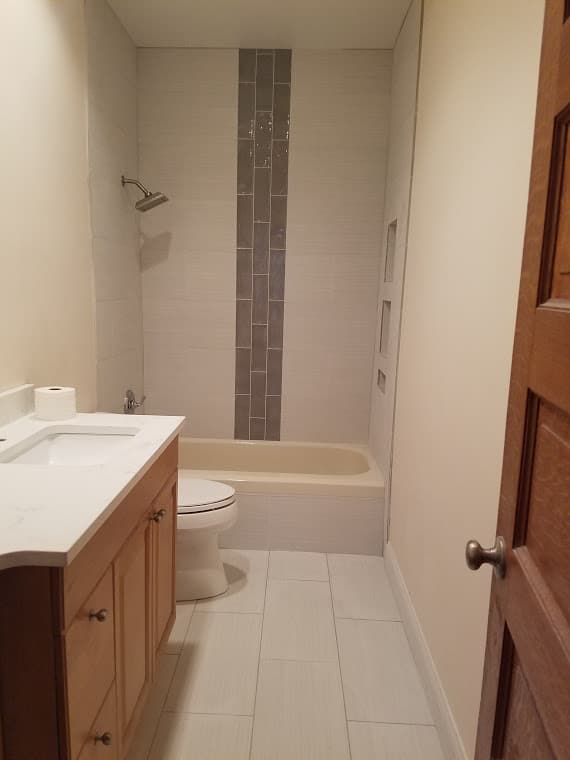 In this Lakeview bathroom remodel, we took a small, dated space and made it a bit more modern. The shower is the clear focal point, with a taller profile and central accent strip, it draws the eye and makes the ceiling seem much higher than it is. Additionally, all the hardware is brand new, including the modern rainfall shower head installation. Where there was once a stuck-on soap tray, we've added shower niches built into the wall, offering storage with a sleeker look.
We kept the same vanity cabinets, but added new counter tops with a squared, under-mount sink.
Tile was the most intensive part of this project. All of the old faux-stone was removed and replaced with the more contemporary wood-look. The staggered layout adds more visual interest than the previous grid arrangement, and the contrast of the accent strip makes it that much more compelling. The floor, tub surround, and shower walls are all the same tile to create unity.
One last change that might not be immediately apparent is the new lighting. The incandescent bulbs, which cast the bathroom in a drab yellow, have been replaced with white LED. The result is a brighter, more welcoming space (and one that makes doing make up that much easier). You can really see the difference in the before-and-after pictured here.
Save this room on

Give your own bathroom a much-needed update
Check out more bathroom remodeling ideas
More projects by Alex, this room's Project Manager
Remodel Your Home
---
If you live in Chicago or the surrounding area, call us today for a free consultation (773) 685-6095, or click the button below:
[button style="btn-warning btn-large" url="http://123remodeling.com/free-consultation/" size="" block="false" target="_self"]Schedule a Free Consultation[/button]