Can a tile be hot?
The Habitat Collection of tile may make you think so.
Porcelain Wood Tile is being used a good bit in really interesting projects.

There are many advantages to using Porcelain Wood Tile over natural wood.
Longevity & Durability — under normal conditions a porcelain tile will outlive the best wood installation.
Low Cost Solution — installation is faster than traditional wood paneling and upkeep is nearly costless.
All the textured look of natural wood with the longevity, durability, and low upkeep just as with every other porcelain tile.
Even up close this innovation looks like natural wood grain.  It is also available in large formats to help create unique spaces.
A recent Lakeview Chicago Bathroom Remodel  featured this tile.  The results speak for themselves.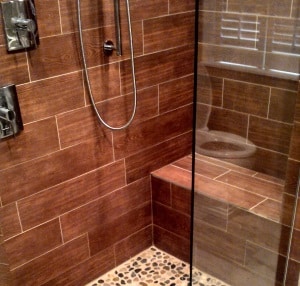 ---
Visit our store to see the entire Habitat Collection.
 ABETO
 EBANO
HAYA
 ROBLE
 SAPELI