A kitchen is a high-traffic, highly functioning room as the center focal point in most homes.   Areas in the kitchen requiring a bright light source, counter-tops where food is prepared and near sink area where dishes are cleaned, often times cabinets and appliances interfere with light's natural path.
The problem –  Insufficient light in the kitchen where cooking and cleaning occur.
The solution – LED cabinet lighting system mounted where you need light most.
What is LED lamp?  Light Emitting Diode is produced into a lamp (or light bulb) used in lighting fixtures.  LED lamps are known for the longevity (50,000 hours life) and it's energy output (emits 2.2 watts of energy per foot) the lowest level for the different types of lights (see below #3) .  LED lighting comes in an array of bulb sizes, colors and shapes. The "LED Lighting Strip" designed as a thin row of LED lights discreetly mounts underneath cabinets. (see image below)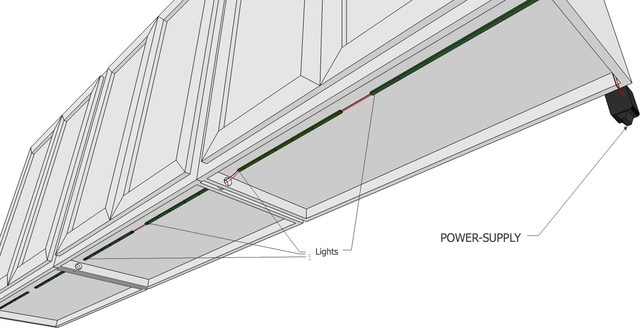 7 Reasons to Choose LED Lighting for Kitchen Cabinets
Safe to touch
Discreet
Energy savings
No permits necessary
Dimmer option
Excellent light quality
Highlight accent
Safe to touch – LED lighting systems do NOT generate heat and will not burn cabinetry

.
2.  Discreet – Install LED lighting strips under neath, inside or above cabinets to install to the aesthetics and kitchen design.
3.  Energy-savings – LED light strips outputs 2.2 watts per foot savings for electrical costs. Annual costs breakdown of the various type of available lighting options.
4.  No permits necessary – The 15 watt, 25 watt or 72 watts power supply is considered low-voltage and do not require Electrical Permits when installing.
5.  Control option – The Push Button Dimmer allows you to control the brightness of the lighting system or turn off the light system completely.  The system can also be controlled wireless by using Lutron's dimmer Pico product.
6.  Excellent lighting quality – LED lights offer a range of brightness where you need it most on counter-tops and sink areas.
7.  Highlight accent – Show off that newly installed back-splash, the walls and floors look vibrant, and you can enhance every detail.
LED Light Systems provide quality bright light to the areas of the kitchen often blocked by appliances or kitchen cabinets.  Under-mounted LED light systems are a great way to provide a source of light directly to these areas where light is most needed, counter-top and sink areas.  Benefits of energy cost savings, light quality and customization options offer for more functionality and aesthetics.  An illuminated kitchen allows safe cooking, cleaning and when properly installed, LED light systems enhances the focal point of your home, your kitchen.
From kitchen remodeling, bathroom remodeling, and basement remodeling, to tuck-pointing/masonry, and exterior remodeling, we do it all. We do residential projects and commercial projects seen on our gallery or by location on our complete project map.
---
Get a Free Consultation
If you're interested in remodeling your home and you live in one of the areas listed above, call us today for your free consultation: (773) 685-6095. Or click the button below and schedule a request for a Free Consultation: