Exclusive Spectra Shower Panel – Starting @$219.99
Redesigned Shower Panel Systems by Bairain – Elegant European Contemporary Designs & Colors
New contemporary stylish shower panel systems by Bairain, available in 3 variations, a complete shower panel system with faucet, a retrofit replacement model for shower head or hand shower and finally a retrofit replacement concealed installation. Each is available in a Open Install or concealed installation.
Shower panels come in a variety of styles and finishes along with features and attributes that can enhance your shower experience for the better. Enjoy these luxuries while benefiting from direct dealer pricing.
Watering and Rainfall Effects Gallery
Features:
Freely Adjustable Massage Jets
Simple Design – Easy Cleaning
Chrome/Nickel Plated Finish – Multiple Colors (White, Satin Nickel, Champagne, Red & Black)
Silicon Easy Clean Nozzle Ports
Rainfall & Water Fall Nature Shower Effects
Optional LED Lighting
Redesigned Styling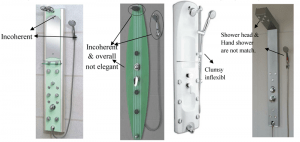 Trends were clumsy and lacking elegance. Additionally many were constructed with corrosive materials.
Bairain Patent Pending Designs