Chicago Condo Remodeling
Condominium Remodeling, High-Rise & Loft At Affordable Prices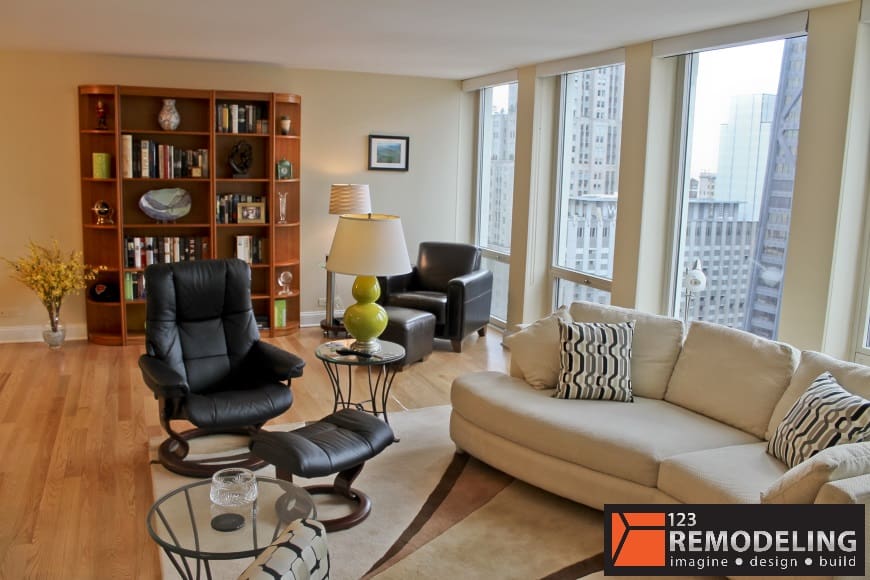 ---
Call Us Today to Schedule Your Free Consultation
(773) 685-6095
or click the button below
Our Process
Offering High Rise, Loft and Condominium Remodeling & Renovations within Chicago. In our many years renovating condominiums, we have dealt with many High Rise/Condo Associations and Management Companies and understand the process and procedure before any project starts. Once the project is approved we take the step even further when the project starts by placing signage notifying neighbors about the ongoing remodeling project. It is these small details that set us apart from the competitors.
We are able to complete all aspects of the construction process including plumbing, electrical, demolish and more without having to have our clients go through multiple professionals.
We meet all condo association regulations and are able to provide licensing, insurance and bond if needed to work in any skyscraper in Downtown Chicago. Our team includes an Interior Designer and Architect for projects that require specific services and our project managers who are all very experienced and skilled. We are always on the cutting edge of technology and design and can implement the best in construction products as well as more modern designs for your project. Our level of professionalism will exceed your expectations while our workmanship and craftsmanship will amaze you. Choose 123 Remodeling for Condo Remodeling in Chicago.
---
Condo Remodeling Photos
Our projects are reasonably priced and include labor, materials, and permits. We can supply several written estimates based on different plans, designs, and options. A comprehensive design, remodel and modernization does not need to cost a small fortune or go beyond the means of most homeowners. With over 500 completed projects, our experience surpasses the competitors. Please view our Condo Remodeling Gallery for ideas and concepts for your project. Choose 123 Remodeling for condo remodeling in Chicago and the surrounding area.
---
Why Choose 123 Remodeling?
Quality Workmanship & Design
Timely Project Completion Guarantee

---
Recent Projects
---
Call Us Today to Schedule Your Free Consultation
(773) 685-6095
or click the button below