Complete Home Interior Renovation Project in Oak Park, IL
/
Thursday, 10 April 2014
/
Published in
Basement Remodeling
,
Basement Renovation
,
Bathroom Design
,
Bathroom Remodeling
,
Bathroom Shower
,
Chicago Basement Remodeling
,
Chicago Bathroom Remodeling
,
Chicago Hardwood Flooring
,
Chicago Kitchen Remodeling
,
Chicago Tile Flooring
,
Kitchen Cabinets
,
Kitchen Countertops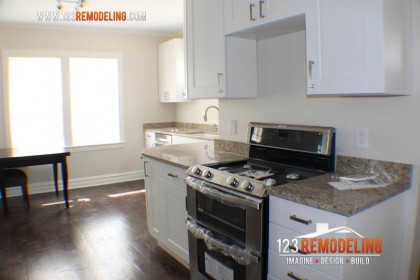 We've done it again. Chicago Remodeling company 123 Remodeling have taken an old outdated interior of this 2 story home and created a dream home on minimal budget. The home features 3 bedrooms, 1 Master Bathroom. There's even a newly finished basement with a guest bathroom, shower, and utility room. The project took approx. 90 days to complete, which may seem longer than normal however the basement was completely finished.
Project Scope: This project was a complete home remodel. The final project has a newly renovated modern kitchen, master bathroom, flooring throughout, repainted walls and a finished basement with separate utility room and guest bathroom with customer standup shower stall.
The project required major renovations in the kitchen with a removal of a wall and re-structuring. Project before/after photos below.
123 Remodeling experts specialize in home remodels and renovations. IF YOU ARE IN NEED OF A HOME REMODEL CONTACT US for a free no obligation In-Home Estimate.
Home Remodeling Project
Kitchen – Modern Design, Open up the Kitchen and remove a wall the wall connecting to wash room.
Master Bathroom – Install standalone tub, tile throughout and install new toilet and vanity
Walls – Re-Frame, drywall, patch & repair and 3 coats of paint
Basement – refinish, re-frame, drywall, patch & repair, construct new utility room and guest bathroom
Guest Bathroom – Custom Shower Stall, with glass frameless enclosure, vanity and new toilet.
Flooring – Engineered Wood on First Floor, Laminate Wood on Second Floor, Tiled Flooring in Basement
Paint Fireplace Bricks
After Photos
Before Photos
Here is what the original home looked like before our team did the remodel