Choosing the Right Remodeling Materials for Your Home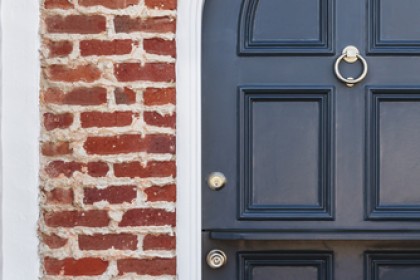 You've been saving for a big remodeling project, and this is the year to make it happen. Get the most out of your money and time by using the best materials for the work. Don't just rely on the contractor's recommendations—do your own research, and you'll be happier with the outcome. Get started with these tips about the various materials used in some popular remodeling projects:
NO OBLIGATION HOME REMEDOLING – GET STARTED TODAY!
In the Kitchen
After a few years of use, kitchen countertops can become scratched, gouged and stained. Replacing your work surfaces brightens your kitchen and gives you a nicer place to prepare the family meals.
Photo by Ggrrdll via Wikimedia Commons
Natural stone countertops. Natural stone has become a favorite in recent years. It's durable, will last many years and never goes out of style. You can place hot items directly on these countertops, since stone is heat-resistant. Stone is porous, however, and needs to be sealed at installation. You may need to reseal the surface every two to three years for maximum protection. Marble and limestone are softer stones that can chip easily, but they come in a variety of colors and patterns. And because the stone is natural, no one will have the same countertop as you.
Cultured stone countertops. Cultured stone is a blend of pigments and quartz that's meant to look and feel like natural stone. It can be made in different colors and textures, the material is heat- and scratch-resistant and it does not need to be sealed. It's easy to clean and doesn't stain. This option is less expensive than natural stone, but they are mass-produced and commonplace.
In the Bathroom
When it's time to pull up old vinyl flooring and put down a tile or stone floor, consider using:
Photo by Gurkan Sengun via Wikimedia Commons
Ceramic floor tile. This type of tile is different than wall tile—it has some texture to it to prevent slipping. It comes as square tiles, octagonal and hexagonal. Different colors and patterns are available, and you can use colored grout to accent your floor. Go with an "impervious" porosity rating; it means the tile is the least absorbent.
Natural stone tiles are durable and easy to take care of. They need a strong subfloor under them for support. Textured stone will keep slipping to a minimum while retaining the natural beauty. Polished stone tiles can be slippery and will need to be sealed to prevent stains. Natural stone is usually more expensive than ceramic to install.
Replacing the Front Door
Your front door is the portal into your home. When worn and warped, it can look a little scary. Replace that door with something that entices people to come in and stay for awhile:
Photo by Schlitzer90 via Wikimedia Commons
Wood doors. A front door made of wood has a traditional look. Made of oak, cherry, walnut or a number of other woods, this type of door displays warmth and character. It also provides excellent insulation—but wood doors are expensive, and they can warp. Modern types are made of a wood skin over a composite core to minimize moisture absorption and warping.
Fiberglass composite doors. This is a better solution for humid climates and rough weather. The surface can look like any type of wood, but the inside is filled with wood bracing and foam insulation. These doors are nearly maintenance-free and often come with lifetime warranties.
Product Warranties
Speaking of material warranties: With any remodeling material you are considering, ask what is covered and for how long. A less-expensive material may not be such a good deal if you have to replace it every couple of years. Look for a chart comparing major brands and their warranties, such as this one from Champion Home Exteriors. In some cases, a more expensive American-made product may be the best choice, because the U.S. has stricter manufacturing standards versus many products made overseas.