How to Choose Kitchen Floor Tile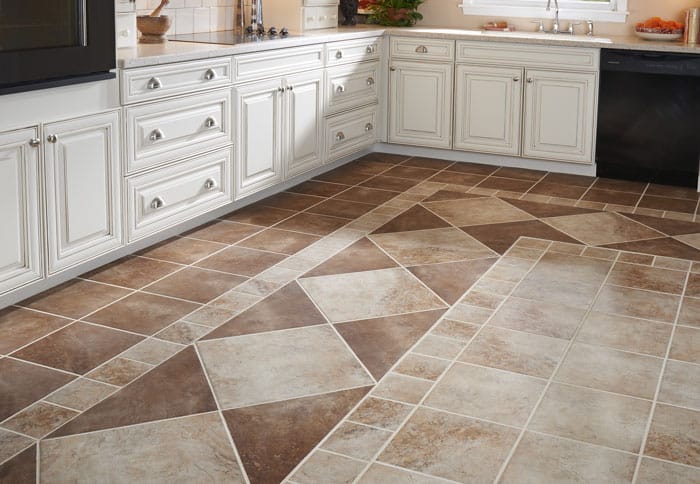 We all love the look of a hardwood floor. However, are hardwood floors really the right choice for a kitchen? Unless you are living in a small apartment, probably not. So if no hardwood floors in the kitchen, then what is the best choice? The kitchen receives the highest level of foot traffic in the house. With that being said, the kitchen needs flooring that can withstand high usage and wear and tear. Some people choose to install laminated flooring since it is quite inexpensive. However, laminate flooring is not recommended simply because it doesn't hold up nor contribute to the overall design of the kitchen. The best choice for the kitchen then becomes tile flooring. It's really an easy choice. Kitchen tile is tough, durable and easy to clean. Food, drink and pet marks won't cause any lasting stains and its easier to maintain than hardwood flooring. Simply sweeping, dusting and wiping with a damp mop will keep that kitchen tile looking new. On top of that, the right kitchen tile can add to the overall design of the kitchen and even compliment the countertops and cabinets. Kitchen floor tiles come in a variety of designs, shapes, and sizes. From basic designs to ones that can transform your kitchen into a unique part of the household. Recently, large tiles have become a trendy choice since they tend to make the kitchen looker larger than it actually is. Next, let us examine what types of kitchen tiling there are to choose from?
REQUEST A FREE IN-HOME ESTIMATE FOR A KITCHEN REMODEL
Ceramic
This is a common kitchen floor tile used by homeowners and also the most economical. Ceramic tile is made from clay materials that are first quarried and then formed into a mold. Forming methods for ceramic tile include slush mold, dry press and extruded. Normally, ceramic tile is made from a white, red or brown clay mixed with other minerals and can come glazed or unglazed. While ceramic tiling may be suitable for your home, keep in my that it is more prone to staining, water absorption and doesn't hold up as long as the more expensive choices.

Porcelain
Like ceramic tile, porcelain is produced from a mixture of clay and minerals, but also %50 of a white sand called feldspar. A crystal found in rock, feldspar helps to fuse the clay and minerals together, resulting in a more dynamic material than ordinary ceramic. Not surprisingly, porcelain tile cost more than ceramic, but it certainly brings added benefits. Porcelain tile is less prone to staining, water absorption and offers greater durability than ceramic tile. On top of that, it is just prettier to look at as well. While it will cost you a bit more, it's better quality and contributes more to your kitchen design. However, keep in my mind that porcelain is more difficult to install than ceramic.

Stone
This is the most expensive of the three, but for good reason since it's the most durable and elegant type of kitchen tile. Stone tile is manufactured from materials that are quarried, slabbed, finished and then cut to size. Typically, stone tile is made of marble, limestone, granite or slat. Each of these types of stone can take on hundreds of characteristics depending on where and when the stone was quarried. Granite is typically dense and hard. Limestone creates an earthly look. Marble comes in a variety of colors, but shouldn't be used for kitchen flooring unless it is sealed on a regular basis. Slate also offers an earthly appearance and is extremely durable. Keep in mind that while stone tile is undoubtedly the most beautiful, it also needs to be sealed periodically, which adds to the overall cost of maintaining it.
When choosing the right kitchen tile, it really comes down to your needs and budget. Some things to consider are durability, water resistance, texture, and underlayment. When considering these, think about how much traffic your kitchen receives and how long that new tile will hold up. You may choose a more economical ceramic tile, but how will it hold up to water absorption if your kitchen sees heavy usage? If you want something less expensive than stone tile, but still offers an elegant look, then porcelain may be a good choice. Whatever the choice, there are plenty of options to choose from when it comes to kitchen tile.
123 Remodeling experts specialize in kitchen remodeling, demolition, and renovation. IF YOU ARE IN NEED OF A KITCHEN REMODEL CLICK HERE