Bathroom Upgrades that Do Not Have to Cost a Fortune

The bathroom is the most visited space within most homes – you use the bathroom at least twice a day, minimum. So why not renovate it? Most think a bathroom renovation is costly, but that's not always true. According to Houzz, a mid-range bathroom remodel can cost $10,000 or more. However, you can change the entire look of your bathroom with just a few modifications – all while keeping the budget to a minimum.
Here are some useful tips for remodeling your bathroom while keeping the cost low.
Start with the Bathtub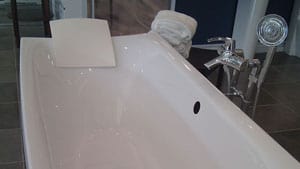 The bathtub tends to be the item in the bathroom which can be spruced up very quickly. Rather than replacing the bathtub, a simple reface or refinish can be accomplished from $150 to $500. Refinishing will save you up to 85% over replacement costs and last for decades to come.
Old, chipped dingy tubs can be transformed into something that's appealing and fresh without a large investment. Click here for more information about bathtub refinishing.
If you're looking for something completely new, you can also save money by choosing a prefabricated bathtub instead of a custom tiled design. Prefabricated showers and bathtubs are usually made of fiberglass or acrylic and are mass-produced in factories. They come in a wide variety of options and styles. You can often find a nice prefabricated unit for less than $1,000.
Upgrade Your Shower Head
Sometimes a new shower head is all it takes to add a modern, luxurious new look to your bathroom. Shower heads come in all different shapes and sizes, so you're sure to find one that fits your budget. Take a look at some of the shower heads pictured above, and image how great they would look in your bathroom.
You can see more options and prices on our store page.
Cost-Effective Flooring Options
The great thing about remodeling your bathroom is that it's usually the smallest room in your home. This means that certain costs will be lower than they would normally be for other larger rooms in your house. This is especially true when it comes to flooring. Even on a tight budget, you can find a good deal for some new bathroom flooring.
The best flooring choice for keeping the cost low is vinyl. Advancements in technology have made luxury vinyl flooring a popular option for bathroom floors. There are many different styles to choose from. Vinyl simulates natural materials, such as stone or wood, but it's much cheaper than its natural counterparts. You can find luxury vinyl flooring for as low as $2 per square foot. And you can find ordinary vinyl flooring for as low as $0.30 per square foot.
A Fresh Coat of Paint
Similar to flooring, painting your bathroom can be another inexpensive way to give your bathroom a great new look. Because bathrooms are so small, and the walls are often covered by mirrors, tiles, and cabinets – therefore, painting your bathroom is a relatively small project. A new color might be exactly what your bathroom needs.
Bathroom Accessories
This is probably the easiest and cheapest option on this list. Bathroom accessories – such as towel bars, tissue holders, robe hooks, and lotion dispensers – are an efficient way to enhance the overall look and feel of your bathroom.
Just a few new accessories can have a massive effect on your design. Some polished brass, chrome, or stainless steel can add an element of luxury to your bathroom.
Check out our store to see the variety of bathroom accessories we have available.
Do Not Rearrange Plumbing
The secret to keeping your costs low during a bathroom remodeling project is keeping the plumbing exactly where it is. You can still end up with an amazing new bathroom, while keeping the water supply in the same spot. Once you start changing the plumbing, that's when the costs start adding up. That's why bathroom remodeling projects are notoriously expensive – but they don't have to be. You can do a simple, surface-level remodel that fits within your budget.
Do You Want to Remodel Your Bathroom?
If you live in Chicago or the surrounding area, our experts at 123 Remodeling can help. Call us to day at 773- 685-6095 or click the button below to schedule your free consultation with one of our experienced project managers:
Get a Free Consultation