Awning Installation Chicago – Prevent Rainfall Water Damage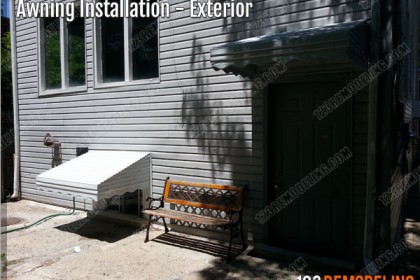 Project Scope: Basement/ Garden Unit Water Damage Issues
Issue: Water damage through window well area and entryway of unit. – The issue with many basement or garden units during high rainfall is the water that will surround and gather within the window well and entryway well.
A basement window well that begins to leak needs to be repaired at the earliest to avoid incidents of basement flooding. While basements makes for extremely useful rooms in the house, they are often most susceptible to damage, particularly that related to flooding and dampness. In fact, most of the maintenance and repair work done in a house is targeted at the basement. If you have a flooded basement, the two most likely reasons are that either water is coming in through a crack in the foundation or water is coming in due to a leaky basement window well.
The method preferred by many basement contractors to stop water from leaking windows from flooding the basement is to use a special channel to direct this water into your perimeter drainage system.
Solution:
Step 1 – Examine the Windows and Doors
Step 2 – Fill any Cracks that may be present
Step 3 – Install the Drainage Duct
Step 4 – Install Awnings to Divert Water to perimeter drainage system