6 Condo & Highrise Flooring Ideas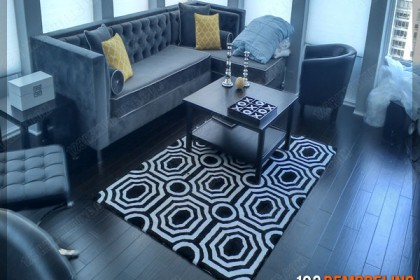 Most highrise or condominium homes are constructed of solid concrete, glass and steel. For years one flooring option has been parquet floors, which are glued down and installed directly on the concrete. For most the busy pattern can not only play with your mind due to the angled checker board look but, can scratch easily and also fade if exposed for long periods of time to direct sunlight. Another disadvantage with this type of flooring is it may need to be sanded, re-sealed or polished periodically to keep it looking fresh and new.
The floor may be the one thing you use most in your condo. Unless you can hover, your floor is in constant use when you are home. Given the large amount of use it gets, it is worth spending some time thinking about your flooring ideas, whether you are buying or selling, or just thinking of ways to improve your condo. The six types of flooring options we recommend are carpet, hardwood, laminate, tile, engineered wood and concrete.
---
Hardwoods
Thought hardwood is one of the more expensive options, its biggest advantage is their durability and it still is one of the most desirable. Replacing the flooring with hardwood is a great way to catch the eye of potential buyers on a sellers perspective. With the wide variety of color options however selecting a light color will actually make your space appear larger. Hardwood Flooring is also quite easy to clean and maintain.
Costs: These can vary greatly depending on the types of hardwood selected but on average it could cost between $3 to $12 per square foot.
Pros: Hardwoods look very nice and have a great resale value. They are easy to clean and maintain and usually only require vacuuming.
Cons: The cost is the largest drawback. Like tile, hardwoods are also loud to walk on. Real hardwoods also need refinishing occasionally in high-traffic areas. Standing water can also ruin hardwoods.
Rooms We Recommend For Hardwood: Living Room, Bedrooms
---
Tile
Tile like Harwoods can be a pricey option but this type of flooring can be good option in the bathroom and kitchen because it is not sensitive to moisture and water. Additionally it is fairly easy to clean up any spillage. We also recommend tile in high-traffic areas like the doorway or foyer but tile does have a drawback, tile does not retain heat very well so if you live in a cooler climate zone one option is to install heating elements underneath which we highly recommend especially within the bathroom.
Costs: There are many different types of tile. It can range in price from $1 to $20 a square foot.
Pros: Glazed ceramic tile is very durable and resistant to scratches. It is water resistant. Tile comes in a variety of sizes and materials, such as marble, porcelain, travertine, slate, and granite. Additionally, tile is fairly easy to clean, and stains are not much of a concern.
Cons: Tile can be very loud to walk on and echos. It can also be cold, and heating systems for tile are very expensive. Tile can crack and can be difficult to repair. The grout gets stained and needs to be cleaned.
Rooms We Recommend For Hardwood: Bathrooms, Kitchen
---
Carpet
This is one of the most popular type of floor covering available. Carpet is available in a wide variety of colors, styles and quality and frequently installed in the living room and bedrooms. Carpet provides a cozy feel through the house and general even provides warmth, however we do not recommend installing carpet in high-traffic areas like doorways, as it will become worn and dirty. Another area we recommend not to install carpet is in the Kitchen or Bathroom since it will get dirty, absorb water and spills.
Costs: The cost of carpet varies greatly depending on the quality. However, standard carpeting and padding is between $2 and $5 per square foot.
Pros: Carpet not only feels soft, but it also gives a soft look to a room. It is quiet to walk on and prevents echoing throughout a home. Carpet is quick and simple to install and can go over uneven subfloors.
Cons: Although advancements in fiber technology have enabled carpet to be more stain-resistant, it still gets stained. Even when vacuumed frequently, it still may contain hidden dirt.
Rooms We Recommend For Hardwood: Living Room, Foyer and Bedrooms
---
Laminate
Another option that many new condo owners prefer and option provided by 123 Remodeling is laminate flooring which is designed to look and function like hardwood, but at a cheaper price. Laminate is a good option as an alternative to carpet, but do not have the budget for hardwood floors. It does not have the the durability of hardwood, but much longer than carpet. Laminates also come in a variety of colors and thickness and like hardwood selecting a light color scheme will provide the feeling of a larger room. We recommend not installing laminate in the kitchen, bathrooms or areas where water spillage could occur since laminate should not get wet.
Costs: Laminate can vary in pricing, but is available between $0.50 to $3 a square foot.
Pros: Does not easily scratch. It also can look like real wood or tile, and it can even be difficult to tell if it is real or not. Like hardwoods, laminate is easy to clean. It is also great for pets because they can't scratch or stain it.
Cons: Standing water will ruin laminate flooring. Laminate can not be refinished.
Rooms We Recommend For Hardwood: Foyer, Living Room
---
Engineered Wood
This type of flooring is a derivative wood products which are manufactured by binding veneers of wood, together with adhesives to form a composite plank. Engineered wood has an advantage over hardwood in that it can be manufactured in longer lengths and widths. Also due this layered system, engineered wood is more stable than solid wood and less likely to warp when faced with temperature changes and humidity. This type of flooring can be installed in any of the rooms even bathroom since its installation process locks each plank thus eliminating gaps where moisture or water may seep.
Costs: On average it could cost between $1.50 to $5 per square foot.
Pros: Beautiful, warm, soft on the feet, fairly durable, long-lasting if properly sealed and maintained, can be refinished, many wood types and hues to choose from, can be painted or stained for more color options, helps tie kitchen to other rooms in an open floor plan.
Cons: Susceptible to water damage, darkens with age, expensive to very expensive, softer woods can dent easily, harder to keep clean than vinyl or laminate – water and spills need to be cleaned immediately. Dust everywhere with refinishing or new installation of unsealed wood.
Rooms We Recommend For Hardwood: Kitchen, Bathroom, Living Room, Foyer or Bedrooms
---
Concrete Floors
The ultimate multitasker, concrete floors are often both the finished floor and the structural floor too. It has become the new material of choice for designers and homeowners since its a smart, efficient and cost-effective solution. Staining concrete floors offer numerous options for interior rooms including nearly limitless designs, colors, and even health benefits. Whether it's acid-stained, painted, overlays, microtoppings, radiant floors, or a unique personal floor, concrete floors offer a range unlike any other material. Concrete flooring, sometimes referred to as cement flooring, no longer has to be gray and boring. Now coloring concrete, or applying textures, patterns, saw cuts, etc., can bring new life to this traditional substrate.
Costs: The cost of concrete floors is very low, about $2 to $6 per square foot to polish a plain gray slab, giving it a lustrous sheen.
Pros: Durability, Easy to maintain, environmentally friendly, Long lasting, and Versatile in that you can apply any other type of flooring to it in the future. Lots of Design options
Cons: The surface of concrete floor is very hard, also this can make it uncomfortable to on for long periods of time. Concrete floors do not retain heat very well. Susceptible to moisture if not sealed correctly.
No matter what type of Condominium or High-Rise Flooring our specialists at 123 Remodeling – Chicago can install your dream floor. For a free flooring estimate regarding your Condominium or High-Rise Flooring Click Here