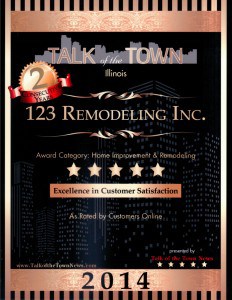 Once again, 123 Remodeling has won the Talk of the Town Award for Excellence in Customer Satisfaction. We are happy to accept this award for the third consecutive year — for 2012, 2013, and 2014. We look forward to continuing that trend in 2015 as well.
Thank you to all of our customers who helped us win this award. The Talk of the Town Award is decided by ratings of customers online, so we couldn't have done this without your support. 123 Remodeling is committed to providing excellent customer satisfaction in our home improvement & remodeling business. It's no surprise to us that we were rated five stars out of five.
Talk of the Town is led by professionals with more than 30 years of successful business-to-business publishing experience with a unique vision. They have high-quality editors, writers, administrators, and researchers to produce the best results. They have invested a great deal of time and financial resources to survey the thousands of businesses with online posts from customers in order to qualify those that have been getting good ratings. The Talk of the Town Award measures and recognizes businesses for what their customers say about them online at different websites. No one can buy an award; it has to be earned. And that's why winning this award means a lot to us.
Talk of the Town News established their trademarked power ratings with industry-leading, sample-based methodology to track customer satisfaction. They gather information from a combination of highly respected, no-cost, online user-review websites, blogs, social networks and business-rating services to measure customer satisfaction. Star ratings from the websites, the number of user reviews, scores from other business-rating services and accolades found through their research establish the basis for their ratings. This annual audit provides data for a review process to evaluate and rate its findings. Based on the results of this review and internal guidelines they assign their own rating to act as a representation of the data they have accrued.
With over 10 years of remodeling experience, 123 Remodeling has a growing number of satisfied and returning customers. Please visit our testimonials page to view our extraordinary services and the high quality of our completed projects.
We approach each project with customer satisfaction in mind — working with clients, architects, and subcontractors toward the common goal and a successful project delivery. Through technical skill, pre-construction knowledge, and self performance, we anticipate challenges, develop solutions that meet our clients' objectives, and produce the highest quality projects on schedule. We make sure that all of our customers are 100% satisfied with our work.
Because of our good reputation for excellent customer service, we receive a lot of returning customers and referrals. That's why we would like to say thank you to all of our loyal customers who help spread the word about 123 Remodeling.
Remodeling Chicago
Do you live in Chicago or the surrounding area? Are you interested in remodeling your home? We specialize in condo remodeling, kitchen remodeling, bathroom remodeling, and more. We would love for you to join our long list of satisfied customers. Call us today for your free consultation: 773-685-6095 or click the button below:
Get a Free Consultation