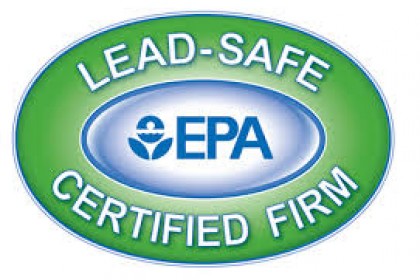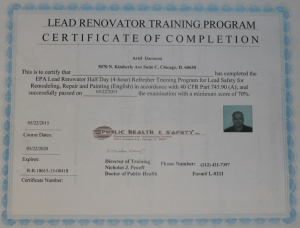 With a home remodeling project, there is expectation for a R.O.I. (Return on Investment) and keeping the home safe from hidden factors, i.e. electrical, mold and lead-based paint issues.  Any project that involves painting, will include these activities of sanding, cutting, scraping, replacing windows, can invoke hazardous lead dust and chips, harmful to children, adults and pets.  Only a small amount of lead dust is needed to poison children.
As stated by the NAHB (National Association of Home Builders), NAHB will continue to work with HUD, the U.S. Centers for Disease Control and Prevention (CDC), and EPA to eliminate the risk of lead poisoning, and support their goal of eliminating childhood lead poisoning.
The Lead: Renovation, Repair and Painting regulation went into effect on April 22, 2010. To work legally in pre-1978 homes, remodelers must submit an application to certify their firm with the EPA and pay a fee. Remodelers without firm certification and no certified renovator on staff should avoid working in homes built before 1978. The business and legal consequences of violating the rule could be disastrous, resulting in large fines from the EPA.
Why is it important to have a certification?
Many of the activities that take place during renovation can disturb lead in your home; even minor renovations like sanding or window replacement could create an unhealthy environment. For this reason, the EPA states that any company or self-employed contractor offering renovation services that could create or disturb toxic lead dust in homes built before 1978—such as plumbers, painters, electricians, and carpenters—must become EPA Lead-Safe Certified.
How do remodeling companies obtain certification?

123 Remodeling is an EPA Lead-Safe Certified paying the fee and sending an application to the EPA. Operation Manager, Ariel Darmoni has successfully fulfilled all the requirements for 123 Remodeling company, a five-year certification valid until May 2020.
Every Lead-Safe Certified Firm must have at least one Certified Renovator on staff. An employee can earn the Certified Renovator credential by completing an EPA-accredited renovator training course and must attend a refresher course every five years in order to stay certified.

The company will assign an employee who has earned the Certified Renovator credential to each job.

The company's services will be performed only by properly trained workers.

All work by the company will comply with EPA regulations concerning lead safety.
What our customer's will gain from 123 Remodeling's EPA Lead-Safe Certification…
Hiring a Certified Renovation Firm to complete work in your home ensures that the people you're dealing with are trained professionals who will employ lead-safe work practices while working to keep your home as safe as possible.
Click on the image (right) or click here to get a copy of  – "Protect Your Family From Lead In Your Home" by the EPA (United States Environmental Protection Agency)
During the 123 Remodeling process, our certification along with our experience, will help put your mind at ease by doing the best job possible to ensure that your family stays healthy and safe during your home renovation.
If you would like a free consultation to discuss your next remodeling project and you live within our service area, contact us at 773-685-6095 or fill out our online form.  We look forward to meeting you.